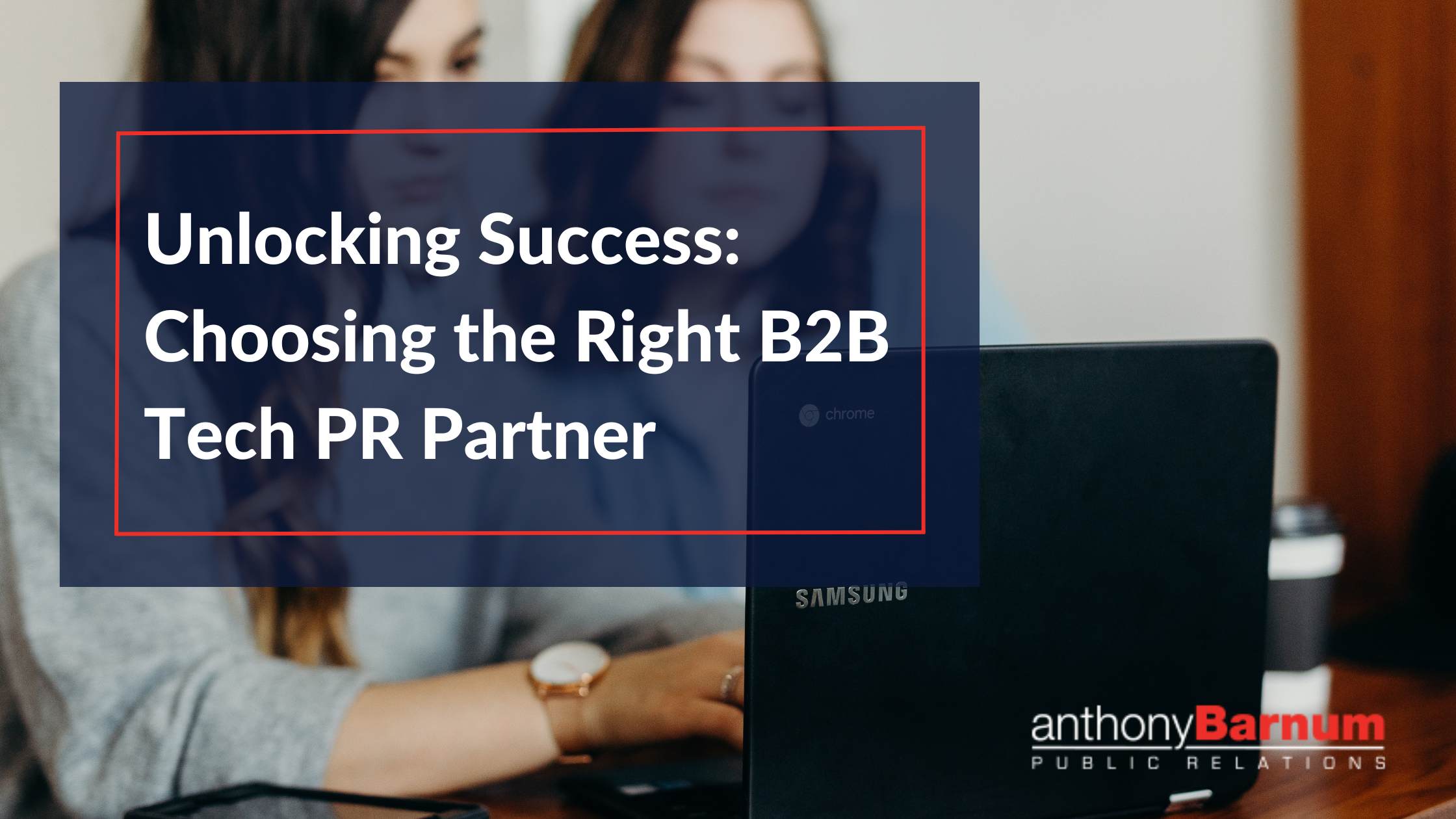 When implemented and executed correctly, B2B tech PR can unlock greater exposure for a company, position it in front of their ideal audience and build better, more delineated brand awareness around their innovative platform. Whether or not this happens, however, often boils down to the caliber of the B2B tech PR partner the organization chooses to work with. 
We'll break down how the nature of B2B tech PR has changed in recent years and how this impacts what essential skills and capabilities a company should look for when selecting a B2B tech PR partner to represent their business. 
What does effective B2B tech PR look like?
There's no doubt that effective PR and representation of B2B companies and organizations has drastically changed in recent years. Many B2B tech companies tend to fall back on legacy thinking surrounding B2B tech PR when it comes to choosing the right PR partner to work with. 
Building trust and relationships with journalists and media publications, creating product  launches, generating press releases and initiating other awareness and exposure strategies have long been the bread and butter of most PR agencies. But what worked in the past, doesn't necessarily work now, at least to the same degree of efficacy and success.
While forming trust, nurturing relationships and building exposure are still a must, the media landscape in which this takes place has drastically changed, particularly within the last 3 years. Once upon a time, in-person press events and launches were crucial to generating awareness and exposure. 
Now, a succinct yet compelling B2B tech narrative can be woven through entirely digital channels, like online events, social media campaigns, digital networking and earned media, stakeholder engagement, digital brand partnerships and organic online visibility. Even more crucial to this awareness is an understanding of how each platform and channel can and should be utilized in each stage of a PR campaign for maximum exposure. 
For anthonyBarnum, a B2B tech PR strategy worth its weight should integrate the complexities of a B2B tech PR campaign and execute it with discernable ROI, featuring measurable goals and targets set in place to guide its rollout. 
Naturally, this means being able to separate the wheat from the chaff when it comes to picking not just any PR partner, but the right B2B tech PR agency. Here's what to look for any organization on the hunt for an outstanding B2B tech PR agency. 
Five qualities to look for in a B2B tech PR agency
A B2B tech organization will undoubtedly be seeking an agency that will deliver the exposure, visibility, brand awareness and engagement that they're looking for in the fastest time possible. All with consideration for their unique value proposition, technical differentiation, and alignment with their market.
So how is it possible to tell whether an agency can do all of the above and more? Asking these key questions below will help to identify and choose the right B2B tech PR agency from the start.
Does the agency fully understand my business?
This one might seem like a no-brainer, but it's surprisingly common how many agencies out there cannot grasp technology and economic concepts within a market. This stems from a lack of foundational understanding – the first crucial capability that a great PR agency needs in their marketing arsenal.  
This understanding shouldn't just be limited to the product or industry. It's vital that the PR firm be actively working amid complex subject matters and in-tune with economic and business concepts. It's also important for the firm to be well-versed in emerging trends and marketing dynamics. To really do so, means the firm itself needs to be working with other leading technology companies comparable in objective and growth trajectory.
Can the PR firm demonstrate measurable success with past B2B tech companies?
Marketing strategy development and deployment are key – but so is measurement. All too often, agencies shun measurement and metrics of their PR campaigns and efforts to provide objective, measurable outcomes. It's no secret that public relations is a difficult industry to benchmark and measure when it comes to efficacy and success. 
However, any good PR agency shouldn't be shying away from measuring and producing the ROI and results of their campaigns. They should be actively encouraging clients to view and engage with these metrics alongside them as part of a data-driven approach to B2B tech PR. 
All of their strategies should be influenced by, and measured with, data to assess current campaign performance and make adjustments and improvements if need be. Common examples can include the number of placements, increases in Share of Voice measurements, and organic inbound traffic growth.
Are they digitally switched on or digitally plugged in?
Every PR agency knows about digital PR 101: press releases, email and social media marketing, industry and concepts around thought leadership. 
But, are they digitally plugged in? Are they staying on top of emerging B2B tech trends and practices, particularly within a B2B organization's industry, and assessing how to utilize them to their advantage? 
Also, how about emerging PR trends in general? And are they following the crowd or taking the lead when it comes to creating strategically valuable thought leadership? There's a world of difference between an agency being "switched on" and "plugged in" when it comes to staying on top of trends. 
What credibility and relationships have they cultivated over time?
Credibility with the media is as important as relationships. An above-par B2B tech PR agency should have established and trusted connections and relationships with some of the largest, most widely-known media publications and outlets that reach the specific target audience. But more than that, they should be perceived credibly overall by the media. To accomplish that, the PR team needs a track record and approach that specifically brings value to target reporters and editors. 
Always be sure to ask any PR agency about the type and strength of their media relationships and partnerships, as it directly influences outcomes. Ask about the firm's philosophy and approach to garnering results.
Is the firm passionate about technology? 
PR agencies should have relevant and related experience, but not necessarily have ultra niche experience. However, they should also have a curiosity and interest in how the technology will impact the targeted industry, as well as meaningful insights into how the type of technology is adding value in creating more efficiency and productivity. 
An agency that's truly passionate about its client and their industry should regularly be coming to their clients with new thought leadership concepts for positioning the value of the platform tailored specifically to clients' industries and target audiences. Important questions include: Does the firm generate and drive thought leadership to position the advancement, or do are they more passive waiting to respond? To generate meaningful metrics, the firm needs to be a driver. 
How to choose the right B2B tech PR agency
Despite having similar objectives, not all PR agencies are cut from the same cloth. Particularly within B2B tech PR, where product and value propositions refinement are inherently more granular and, therefore, complex compared to other forms of PR.
It's important to select a PR agency that specializes in B2B tech representation and brand development. Above this, consider important factors like tech utilization and deployment, digital immersion and specialization, relevant industry knowledge and experience. Most of all listen for the key performance indicators a PR firm sets out.
Specializing working on behalf of ultra high-growth B2B tech companies, we're veterans of B2B tech PR here at anthonyBarnum. Contact us to find out how we elevate and transform brand identity both online and beyond. 
B2B tech PR – common FAQs
How has the B2B tech PR landscape changed in the last few years?
The media are increasingly more trepidatious about covering news and innovations from sources they are not familiar with. It's important in B2B tech to not be overly dependent on press releases, but really build a connection with the media and outlets shaping key markets. 
How important is PR for B2B tech companies?
Good PR is essential for B2B tech companies that want to scale, attract new clients and customers, grow their revenue and market to potential investors. B2B tech PR helps to build awareness of the business, cultivate a positive public image and position organizations in front of the right eyes. 
How much marketing spend should I budget for PR?
B2B tech PR firm retainers vary widely. Silicon Valley and NYC-based PR firms tend to require higher retainers as a foundation, versus firms based in Austin, Texas. Also, many PR firms offer an array of marketing services in addition to PR and/or supplementary service requirements. At anthonyBarnum PR our focus is exclusively PR, crisis communications, analyst relations, awards, influencer strategies, and thought leader-driven social strategies.