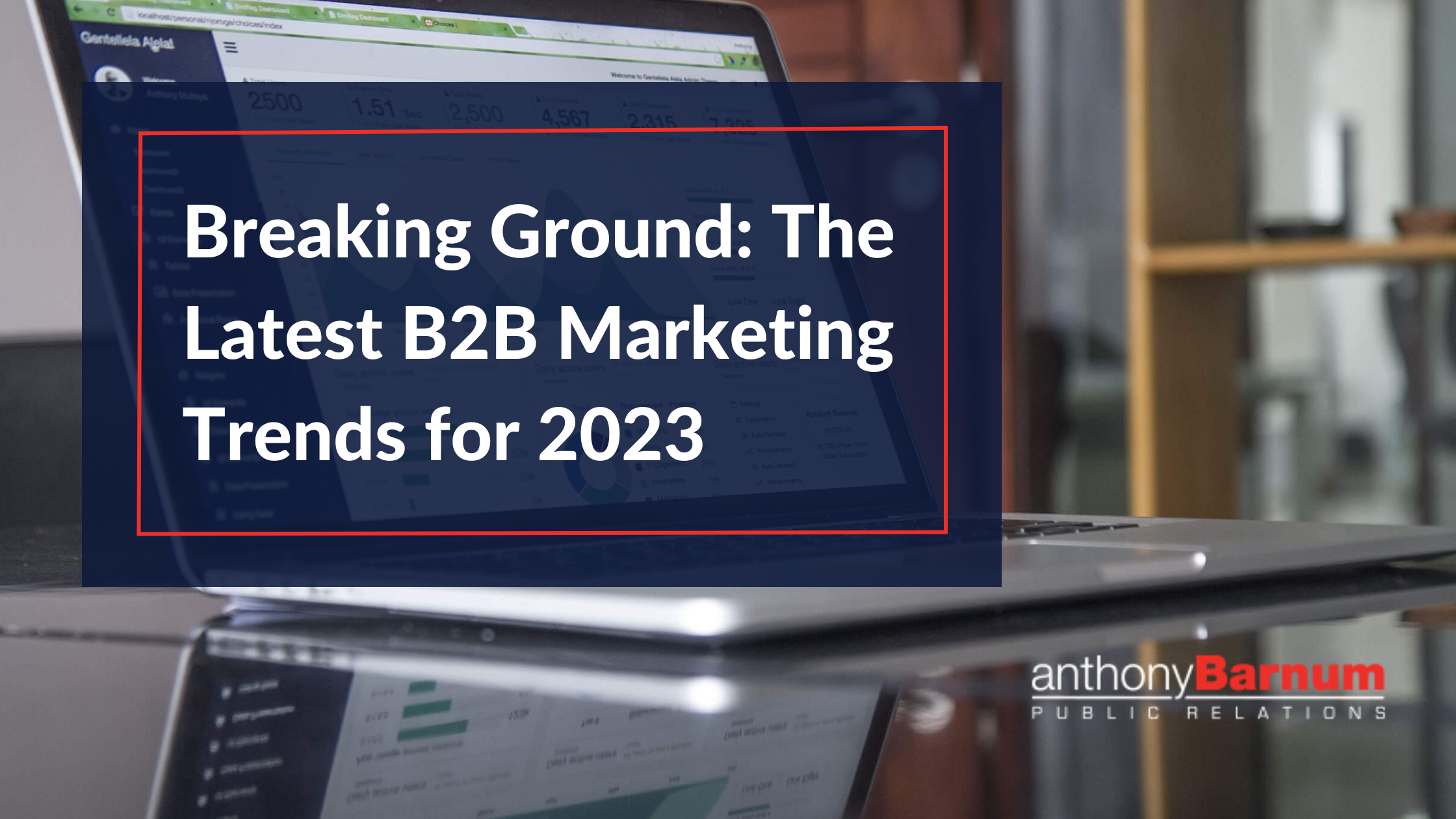 When it comes to marketing for B2B technology businesses, there's an almost overwhelming amount of things to consider. From the most effective marketing practices, to ideal media types, to audience targeting and  measuring the effectiveness of campaigns, it can quickly become an arduous, time-consuming endeavor. But, when planned and implemented correctly, B2B marketing has proven ROI benefits. With marketing becoming even more central to brand development and visibility, it's vital to stay up to date with the latest B2B marketing trends dominating 2023. 
Trends in B2B tech marketing are constantly changing, and have a direct impact on how successfully a brand can reach and engage with their audience, drive higher-quality leads and increase conversions. Knowing which trends are taking center stage and driving the most value will ensure businesses are sharing the right messaging across the most relevant channels and platforms at all times. 
Beyond B2B digital marketing trends, it's also important for organizations to understand the weighted difference in value between different marketing content and media, for example, the influence a data-driven press release or thought leadership article will have on a B2B audience compared to a Tik Tok clip. Not all media formats carry the same authoritative weight, so it's also important to identify and understand which content types will drive the highest engagement and ROI for B2B marketing. 
The top 5 B2B marketing trends for 2023 (based on data)
According to HubSpot's 2023 Industry Trends Report, generating more leads and traffic is a key concern for B2B marketers in 2023. Battling rising marketing costs, increasing competition within the B2B marketing field and budget constraints, approximately 17% of marketers are aiming to pivot their marketing strategies into more fruitful, relevant strategies. Here are a few of the top trends in B2B marketing in 2023. 
1. Podcasts continue to be a popular channel for B2B tech brands
In recent years, podcasts have emerged as one of the most popular and effective B2B digital marketing trends. It's not hard to see why. According to Statista, the global number of podcast listeners is expected to reach 504.9 million by 2024. 
On top of this, advertising spending on podcasts in the US is projected to reach $2.56 billion by 2024. 
The data speaks for itself. Podcasts are a highly effective way for B2B tech businesses to share important, tailored messaging directly to their target audiences. In particular, podcasts are great for sharing relevant, interesting thought leadership ideas and discussions. Businesses can also use them to showcase and spotlight products and services and build hype for new releases. 
2. Video creation is still in its infancy – but essential to remain competitive
Video content is fast becoming a preferred type of B2B marketing trend for a number of reasons. Its purely visual format is highly engaging and can capture audience attention faster compared to more traditional print and copy marketing. It can also simplify and convey complex information in a matter of seconds, saving users time and reinforcing audience engagement. 
Video content is also highly shareable across almost all digital and social media platforms, which drives even more user engagement. Videos can be harnessed to build brand awareness, highlight products and services and provide visual social proof of a business's value proposition. 
Video content may still be on the rise, but it's better to begin utilizing it sooner than later, as 92% of marketers consider video an important part of their marketing efforts and plan to use it in 2023.
3. Influencer Marketing
Influencer marketing might seem like a strange B2B digital marketing trend to list, as generally associated with B2C marketing. But forming strategic partnerships with influencers to build brand awareness and promote products and services can be a highly profitable means to market to B2B audiences. 
The majority of consumers (whether B2B or B2C) shop and purchase online, and trust user reviews and recommendations more than marketing messages shared by businesses. Through this, influencer marketing has become a great trust indicator for B2B leads and prospects.
Influencer marketing is skyrocketing in popularity, with the industry estimated to be worth $21 billion in 2023, and 71% of B2B marketers reporting that they intend on investing more in influencer marketing this year. The key here is to select influencers and partnerships carefully. Sometimes niche influencers with smaller, more targeted followings can deliver a higher ROI than larger, more established influencers. 
4. LinkedIn remains a major platform for B2B marketing
LinkedIn has long been a known digital joint for B2B marketing, and for good reason: it's the best social network for lead generation. According to Gartner, 95% of B2B content marketers use LinkedIn for content marketing. This is largely thanks to its impressive lead conversion rate, boasting a 2.74% visitor-to-lead conversion rate, compared to Facebook's 0.77% and Twitter's 0.69%. 
It also has a vast organic reach, enabling B2B technology brands to engage with a wider audience net through mixed media types. Again, sharing valuable, relevant content driven by data, like press releases and thought leadership pieces, are likely to drive higher engagement and conversion rates on LinkedIn. 
5. AI and automation will play a more central role in B2B marketing
AI has already been playing a significant role in marketing automation and optimization for some time now. According to findings from Deloitte, 77% of chief marketing officers harnessed AI technologies during the pandemic to automate repetitive and time-consuming marketing tasks. 
With generative AI, like ChatGPT and Bing Chat, becoming one of the fastest B2B marketing trends to take hold in 2023, B2B marketing automation is undoubtedly only going to become more intuitive, personalized and streamlined for segmented target audiences at scale. 
Generative AI can optimize almost every aspect of B2B marketing, from building more effective PPC campaigns to generating automated email campaigns from scratch.
Create and Deploy a Compelling B2B Marketing Campaign
It's clear that the latest trends in B2B marketing consist of a balance between careful, compelling narrative and messaging with the leverage of integrated digital platforms and technologies, driven by automation. Understanding how to craft these narratives and where to share them for maximum reach and effectiveness requires a fundamental understanding of the intricacies of B2B PR and marketing. 
At anthonyBarnum, we're B2B tech PR and marketing heavyweights, with extensive experience building brand representation across a variety of industries. Contact us to find out how we can weave your brand narrative and messaging throughout an array of targeted B2B marketing trends and best practices, all fueled by data analytics and performance optimization. 
B2B marketing trends – common FAQs
What is the future of B2B marketing?
The future of B2B marketing is constantly changing and transforming in response to the latest tech and digital trends emerging. It's predicted that future B2B marketing trends will be based around hybrid sales, taking place both digitally and in-person, more integrative AI and ML technologies and a data-driven, personalized marketing experience.
What B2B marketing trends are on their way out?
Traditional content marketing, based around a content calendar, is a B2B marketing trend slowly on its way out. Agile marketing is steadily taking its place. It's based on a faster, more responsive marketing approach that follows sudden viral trends and creates content in response that's quickly shared across platforms. 
What B2B marketing trends have not quite caught on yet?
Several B2B marketing trends that are still emerging still haven't quite caught on yet in popular practice. This includes personalized communications that centers around tailoring customer content and communications to an individual's needs and preferences. Another includes consolidating martech, which consists of consolidating all marketing technologies, instead of using multiple, disparate tools to manage marketing strategies.