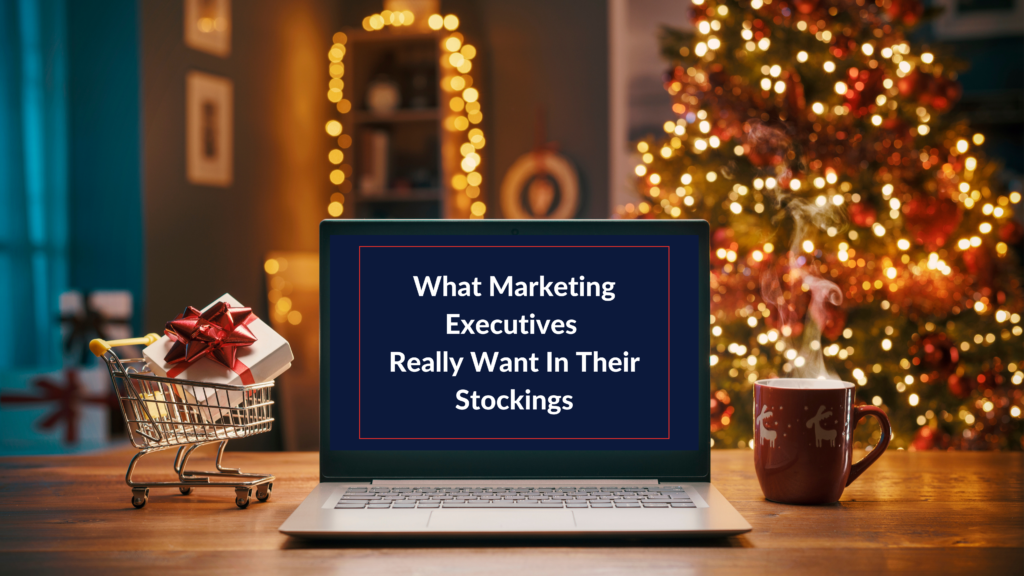 'Twas the week before Christmas…
As we wind down 2022, it's time to be thankful, celebratory, and for marketers to focus on Q1 planning. It's not sugar plums dancing in their heads – it's Q1 KPIs haunting their dreams.
What wonder and enchantment are marketing executives hoping for in their stockings as 2022 comes to an end? I'm not in my kerchief and I'm not taking a nap, but here's a rundown of what I've been hearing…
10. Better sense of economic certainty
Despite the fractures in the economy, the fact this makes the list at #10 versus #1 is a good tiding for all! Innovation companies that bring advanced efficiencies are more confident than not. While some ponder the impact of the economy on their growth, they are more focused on their innovation and how it is poised to change the game in their sector.
9. More talent
Once again, the fact this is making the list at #9 means it's no longer a top challenge. Marketers are adding to their teams and seem to be doing so with less angst than this time last year. Cheers to some steadying of talent!
8. More volume on LinkedIn
After a long pause, more and more marketing executives are seeking sophisticated thought leadership strategies on LinkedIn specifically. They are asking for scopes that funnel the PR campaign into LinkedIn and position their CEOs, as well as other SMEs as thought leaders.
7. Attending conferences
After pauses in the robust event schedules of the past, marketing executives actually sound enthusiastic about heading out to their industry conferences to reconnect in person. They are excited about creating a strategy to make an impact and to have face-to-face discussions. 
6. Upgraded brand
Something must be in the eggnog because in recent months I've heard numerous marketers discuss how they are in the process of upgrading their site, their brand, and key points of their message. I'm seeing their sites transformed and refined within weeks. They know what they want and are successfully elevating their brand images in a shorter timeframe than ever before.
5. Zoom break days
While absolutely necessary for distributed teams, marketers are hinting to me they are taking Zoom-free days now. I get the feeling this enables them to focus on that heads-down work and be more engaged when they are meeting with their teams on Zoom.
4. Ultra high-quality content
In my unscientific analysis, I've noticed that even more companies are struggling to fill their content pipelines. There are a few exceptions out there, but for the most part, this remains an ongoing struggle. Quality is everything, and producing quick content that isn't valuable isn't making the grade. They seek CEO-level readable content that moves target audiences to action.
3. Speed 
Like never before, marketers are seeking speed in execution. They are going into organizations and ramping up in weeks – driving results within a couple of months. They want partners who get that it requires working at reindeer-flight speed to get it done.
2. More and more PR
In this post-pandemic-ish landscape, with all its economic and political tumultuousness, we're seeing strong companies continue to grow, continue to advance their marketing objectives, and add PR to the mix! Marketers know a PR campaign can dramatically redefine a category and drive traffic.
Drumroll, please….The #1 thing marketers want in their stockings is….
1. Bigger pipelines
What pipeline can ever be big enough? Time and time again we hear from marketers that they need to supercharge their pipeline as quickly as possible. PR – with its power to amp up organic traffic and brand awareness—continues to be a key strategic segment of marketing.
And, finally, what do I want to see our clients and prospective clients do? First, I want marketers to take time to turn off the KPIs for a minute and enjoy their families and friends! I want to have a few meetings where we all get off-topic for a couple of minutes and talk about where they are traveling or what they will be baking. 'Tis the season!
Happy Holidays, Merry Christmas, and Happy New Year Y'all!