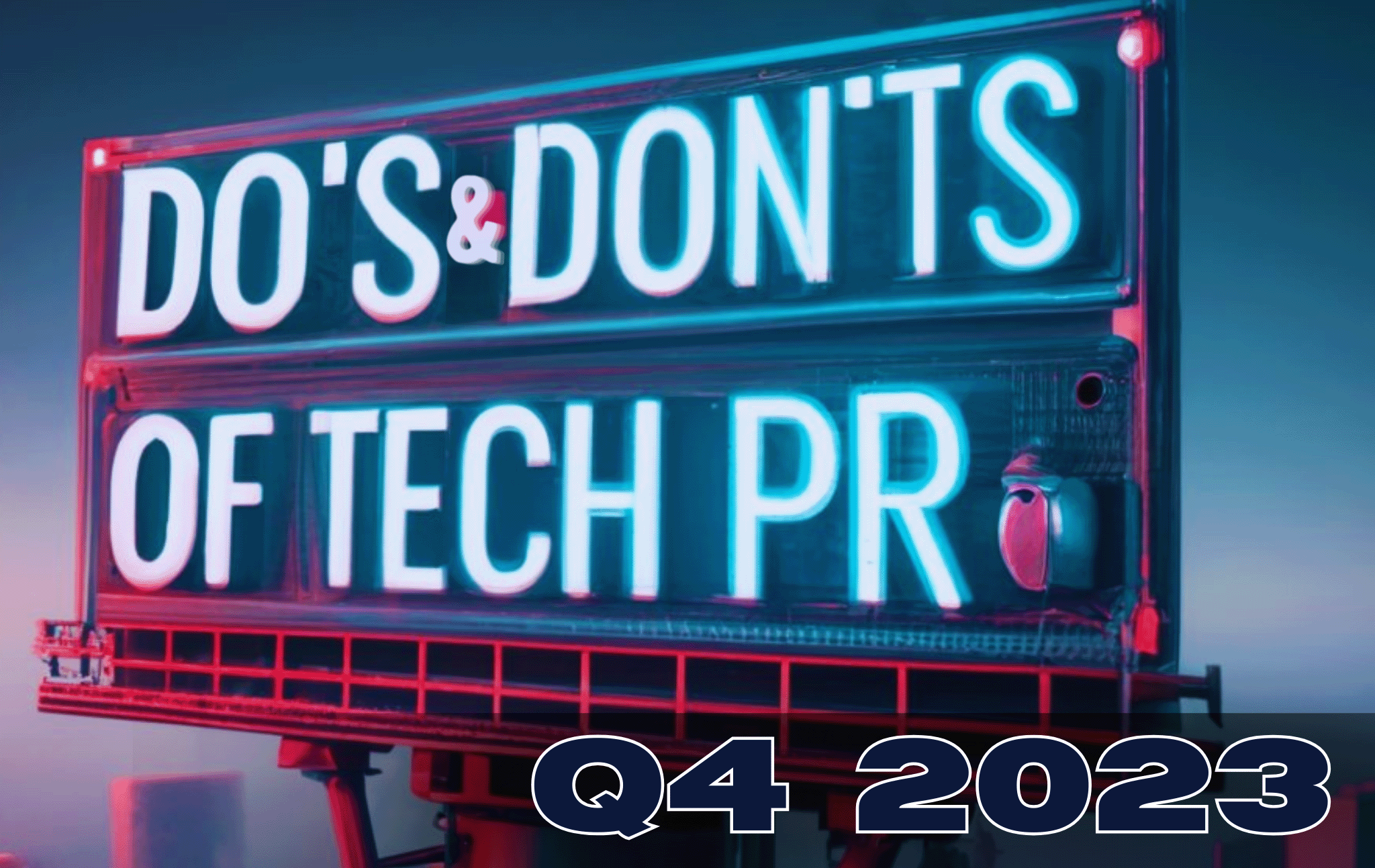 With summer coming to a close, tech companies are ramping up to finish the year strong. Q4 expectations and an eye toward performance for Q1 usher in the busiest possible time of the year for many marketing executives. Amped-up campaigns, an intense focus on sales, and the need for highly engaging content are all priorities.
Many tech marketers get focused on their PR strategy as October approaches. They have common questions about how to best position a PR campaign in the final months of the year. Questions include: How disruptive are the holidays? What if I'm out? They also want to understand how quickly results can be achieved to accomplish their objectives.
With decades of experience on the frontlines of PR, and a large set of data on the subject, I've compiled a set of Do's and Don'ts in tech PR during Q4.
DO Start Early. To maximize momentum in Q4, start as early as possible. If the campaign is for a company with no serious or recent systematic PR campaign, there is an introductory process to target media that will result in greater concentrations of earned media results by the end of the year. Commencing earlier helps optimize any timeline – but most especially the final months of the year.
DON'T Start off with a Product Release, if possible. If you're planning a product launch in October, and want to start a PR campaign the same month, our data shows waiting a few weeks can help get better results. If the company and its innovation have not been previously introduced to the media, a product release coming out of the dark will get less intense coverage than if you had led with an introductory campaign.
Work Around. If you have no choice but TO roll into a product launch as the first PR activity, let's push it back from early October to late October and quickly conduct an initial thought leadership campaign. This will provide an opportunity to introduce the company and garner more coverage.
DO Work through Halloween, but Skip Thanksgiving. Plan major announcements and press releases around the holidays. The PR team will look at when major holidays fall, and make sure there is enough room, in terms of consecutive days, to execute media outreach. The goal is to avoid breaking up the cadence of efforts with a holiday sitting in the middle, which tends to impede the momentum of coverage. Other than a sugar hangover, Halloween isn't a holiday people take off at scale, so the media efforts can work right on through.
Work Around. Sometimes an acquisition, funding, or other transactional event has to happen very close to a specific holiday and can be unavoidable. If you find yourself in that predicament, it's important to micro-strategize and work with embargos to the media and other forms of "pre-release" to make the best of a less-than-ideal set of timing.
DON'T Expect to Carry the Weight of the PR Campaign. In selecting a PR partner, it's important to find one that has a process for managing communications with the marketing team and project manage the PROCESS as efficiently as feasible. The PR team should be leading the organization and execution of the campaign based on the marketing priorities, not leaving it to marketing to be the engine behind the campaign.
DO Take Advantage of Year-End and New Year Predictions. Technology platform companies have the unique ability to be able to summarize where we've been and cast a vision for where technology is going to their vertical audiences, tech media, and the national media. If commencing a PR campaign in October – December, a micro strategy needs to be created specifically to go out to the media with these types of year-end, new-year thought leadership concepts.
When does the media go silent? Every year, the media check out at slightly different times. However, if the campaign is offering compelling concepts and is aligned with the priorities of its target audience, stories are more likely to be secured until mid-December.
DON'T Slow Down in December. As a campaign moves into December, one of the most critical doors is beginning to open. anthonyBarnum's data and media case studies show that one of the most high-concentration opportunities for scaling earned media coverage is in January. It's critical to carve out time in December to package up the big pushes for January. Upon returning from the festivities, the media are eager to plan out and execute stories for their audiences in the new year. In a well-organized campaign that commences in Q4, tech companies will be poised to continue growing their Share of Voice into the new year – outpacing other competitors in their ecosystem and land-grabbing the voice of their categories.