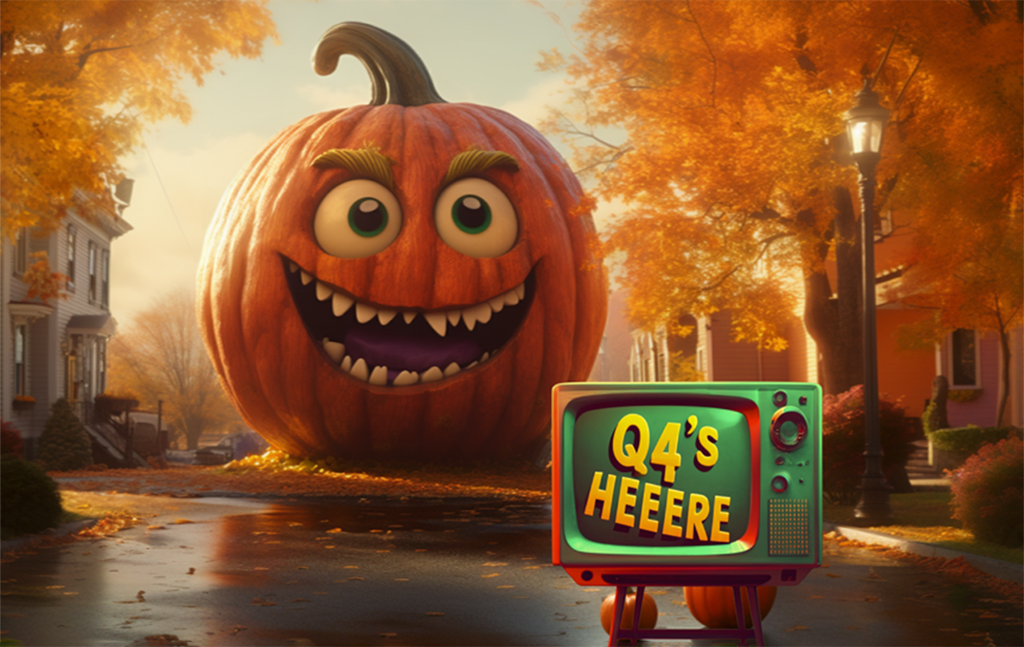 It's Fall, Y'all… and things are DIFFERENT.
Things feel different, don't they? Investment dollars are pouring into AI, cleantech, and healthcare technologies. The news environment seems a bit more practical and less contentious. Technology is at an inflection point as new forms of AI, analytics, automation are poised to be deployed to solve a myriad of problems and increase productivity.  As technology marketers advance into Q4, it's apparent landscapes in marketing are changing — they are changing in PR too.
We're seeing new priorities and trends in PR begin to take shape. If acted on now, marketers can gain a competitive advantage in their categories.
1) Technology and Category Land Grabs – Automation, machine learning, and AI are creating new solutions to drive productivity and solve complex B2B problems. Categories of solutions are being remixed; new contenders are rising and bringing advanced technologies together to solve pain points.
For marketers, this means an intensive focus on attracting customers and bringing their solutions to the forefront. An important element of the mix is leveraging intensive PR to own the category and voice. While it is always an asset to own the voice of a category, upending segments of markets in a time of technology inflection requires more lift and intensity.
With upsurges in venture and private equity dollars going into key sectors and specific technologies, expect to have to outmaneuver competitors at the next level. As we make our way through Q4, your competitors are positioning to bring new platforms to the market – if not this quarter, then maybe next. One jump ahead means firing on all cylinders to lean into leadership through PR.
Category leaders will not leave this on the table for their contenders. For PR, move fast, move earlier, and move more aggressively this Q4.
2) Social Media Not Supporting News – We all know this is happening. News sites' traffic is no longer coming from social media at scale. While the factors that have driven this trend are complicated, the bottom line is that we're going back in a time machine to when media outlets had to build their own brand destination.
The ramifications are beginning to translate into lower circulation numbers for lower-tier outlets. The good news is that the strong outlets – across both general business and tech – will likely grow stronger as the smaller players that have been over-reliant on social media traffic diminish in reach.
While the full impact of this decoupling is hard to predict in its entirety, there are impacts on PR that seem likely:
With the demise of lower-tier media outlets, intermingled PR / SEO strategies that have relied on Tier 3 media outlets as hybrid content distribution and so-called PR will diminish in value and impact.
To be truly competitive from a Share of Voice standpoint, tech marketers need a PR firm capable of driving earned media coverage in Tier 1 national and Tier 1 trade media.
A potential result, over time, may be that more target personas and industry stakeholders gravitate to corporate social media that provides, shares, and reposts curations of relevant media articles impacting the sector. This may offer an opportunity to return from post-as-you-go corporate social media tactics to creating a more meaningful corporate social media experience that provides new hubs of information.
3) Fewer Reporters Means More Experts – With ad revenue struggling and the hit on traffic from decoupling with social media, newsrooms have had lay-offs. There will be fewer reporters and editors to support content development and original reporting in some pockets of the media….at least for now. This means that tech PR needs to lean into the creation of original content that leverages subject-matter experts when possible.
However, just because there is more demand for PR content doesn't mean that content and concept standards are decreasing. In fact, it is the opposite. A decrease in media outlets means that the content standards of the past are rising. Many media outlets are using AI to help them research certain complex subject matters. There is more competition for the highest quality contributed content. A marketer's PR team needs to be excellent to break through at a scale that takes over a category.
Today's tech PR requires original, high-quality data concepts as its fuel. Companies with advanced data analytics capabilities in their platforms need to work with PR teams to shape these findings and create highly relevant news angles that provide meaningful insights.
My Top Advice
Tech marketers are working within a mix of challenges. For many, the next several years will be career-defining. There are headwinds with the intensifying competitor landscapes, but also opportunities to break through and be positioned to customers as the de facto category and industry leader.
On the PR front:
Push to execute PR plans earlier – There is still time in October to make an impact for the end of the year
Take a fresh look at social media channels and how they can be shaped to reach key decision-makers
Look at your data as an asset to fuel category ownership
Up your standards on content and concepts – do not rely on 'good enough' – uplevel on PR or anticipate decreasing results
Things are just different as we make our way through the final months of 2023. Reach out if anthonyBarnum can assist you in mapping a strategy forward through these shifts.