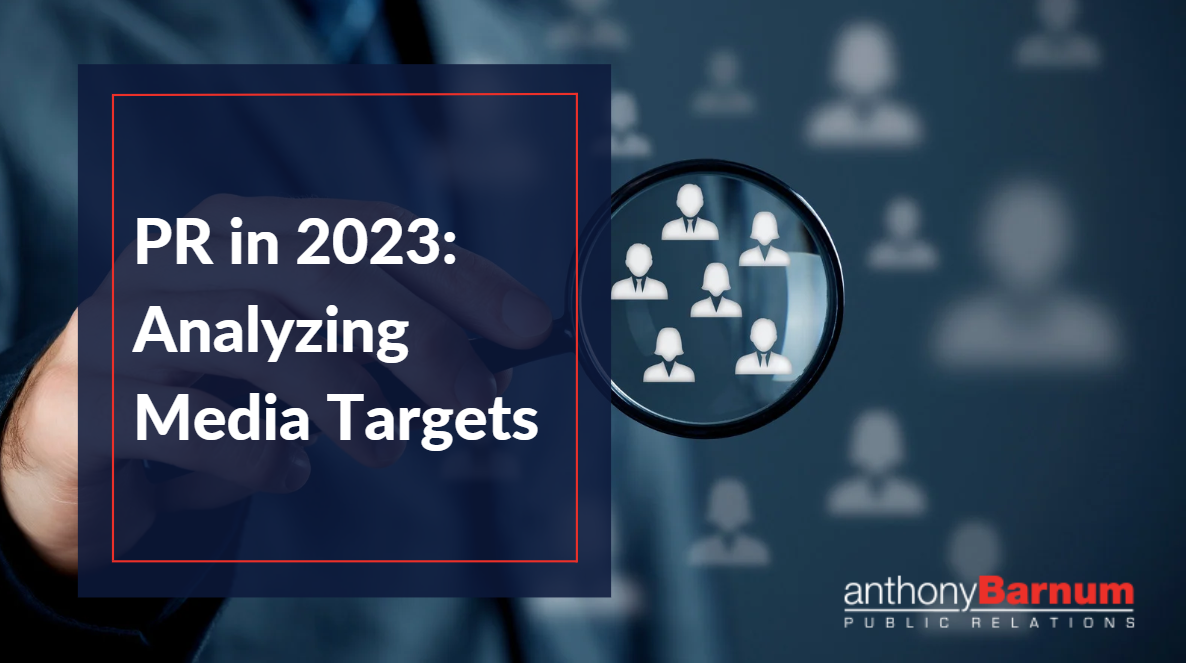 In my previous blog, I focused on the three primary types of thought leadership that should be the primary drivers of PR outreach in 2023 for tech companies:
1) Technical Thought Leadership
2) Data Thought Leadership
3) Visionary Thought Leadership
A great thought leadership approach is only successful if it aligns with a company's priority media targets. 
In my experience, it's easy to over simplify the media and view it through the lens of what is familiar—but the media landscape is increasingly diverse and nuanced in its focus. Think of the media as a varied palette of subject matters and audiences. Tapping into the various types of media can create powerful results with meaningful benefits and even pivotal outcomes– it's worth approaching it with nuance.. 
The Media Universes
Often we're asked about what media we would target for a tech company. What are the 10 top outlets that are important to a company like ours? On the surface it feels like a simple enough question, however, the reality is that media outlets are much more complex. While marketing thinks about target outlets, experienced PR people think of it more as Universes of Media. It's not comic book characters, but there's incredible depth in the U.S. economy and that depth is served by specific categories of media that are often highly influential to markets.
For example, a fintech marketer may be interested in the fintech trades to reach key decision makers within the finance department. On a deeper dive, their real audience may be specific decision-makers within an organization such as the CFO. The difference between CFO media and fintech media is significant. A campaign may benefit from targeting both spheres of media – or it may be most effective to target CFO media and other C-suite media if the platform is more strategic, with lesser emphasis on deep fintech trades.
Additionally, healthcare media have their own fintech and financial outlets. The finance executive at a mid-market tech company does not follow the same outlet as the CFO of a hospital network. However, a CFO at a tech company may be following the same news as a financial executive at a consulting firm.
During anthonyBarnum's kick-off process, one of the key things we are seeking to discover is exactly who marketing is trying to reach– from both a vertical and horizontal perspective. In some cases marketing executives may assume certain Tier 1s – like Fast Company – are the prize and don't fully realize there are numerous vertical and horizontal trades that have 1 million + circulations with a greater concentration of their persona type. It's far more complicated than meets the eye!
Vertical and Horizontal Media
Let's dive in a bit. Vertical trade media is defined as outlets that are serving a specific sector and/or type of decision maker. Media can be classified as Tier 1  based on a reach of over 100K and/or influence in its segment. 
Vertical Trade Media Example:
Becker's Hospital Review, Circulation 1.2M – While it's not a mainstream outlet, it is a market-leading outlet for hospital and healthcare-related innovations. It's a Tier 1 for companies targeting top healthcare networks. Marketers with deep experience in hospital marketing would consider this a mission-critical outlet for placements.
Given the outlet's weight in its market, it goes beyond generalized news and trend coverage. In fact, it's subdivided into sections of even more specialized news coverage, including ACO, Hospital CFO, Spine, Behavioral, etc.
Horizontal trade media covers broader topics that typically cut across industries. Here's an example of a horizontal trade media outlet:
CFO Magazine, Circulation 500K – As a horizontal outlet, CFO Magazine focuses on best practices for leading the financial operations of companies. 
The outlet covers news issues impacting CFO decisions, compliance-related issues, and even coaching strategies to best align with the totality of the C-suite. CFO Magazine spans from expert articles from CFOs themselves to communications strategies during a crisis, such as the SVB bank crisis. The outlet is designed to equip CFOs with the latest in financial operations, strategy, and trends.  
A Precision Approach is Needed
Given that our example outlets possess powerful and specific readerships, their editors are going to be interested in more Technical Thought Leadership and Data Thought Leadership that brings insight to their audiences. There are also important differences between the two outlets: Becker's is more likely to cover category-leading innovation company news, while CFO Magazine would most readily cover big expert insights.
A media list needs to do more than compile top-of-mind targets; it needs to reflect meaningful research and mirror marketing's priority personas. Then, the outreach to those outlets must be customized to their priority areas of focus. 
It's important to remember that more media outreach for the sake of outreach will never create more results. 
To have a truly scalable PR campaign that delivers results at a high cadence, the targets need to be subdivided by vertical, intra vertical and horizontal targets. Instead of sending the same message to media of disjointed coverage areas, the outreach necessitates high degrees of intelligence. Doing so allows for greater success and repeated successful placements. While anthonyBarnum has software programs that help gather the media research, professional in-depth review and a working knowledge of the segmentation of media remain critical to the process.
Marketing executives report back to us that they see more high-value leads from the outlets that truly align with their business objectives. You can't skip the analysis and hope for the best. PR in 2023 requires analysis at all levels to be effective.
Reach out to anthonyBarnum today for insights and help building your targeted media plans.