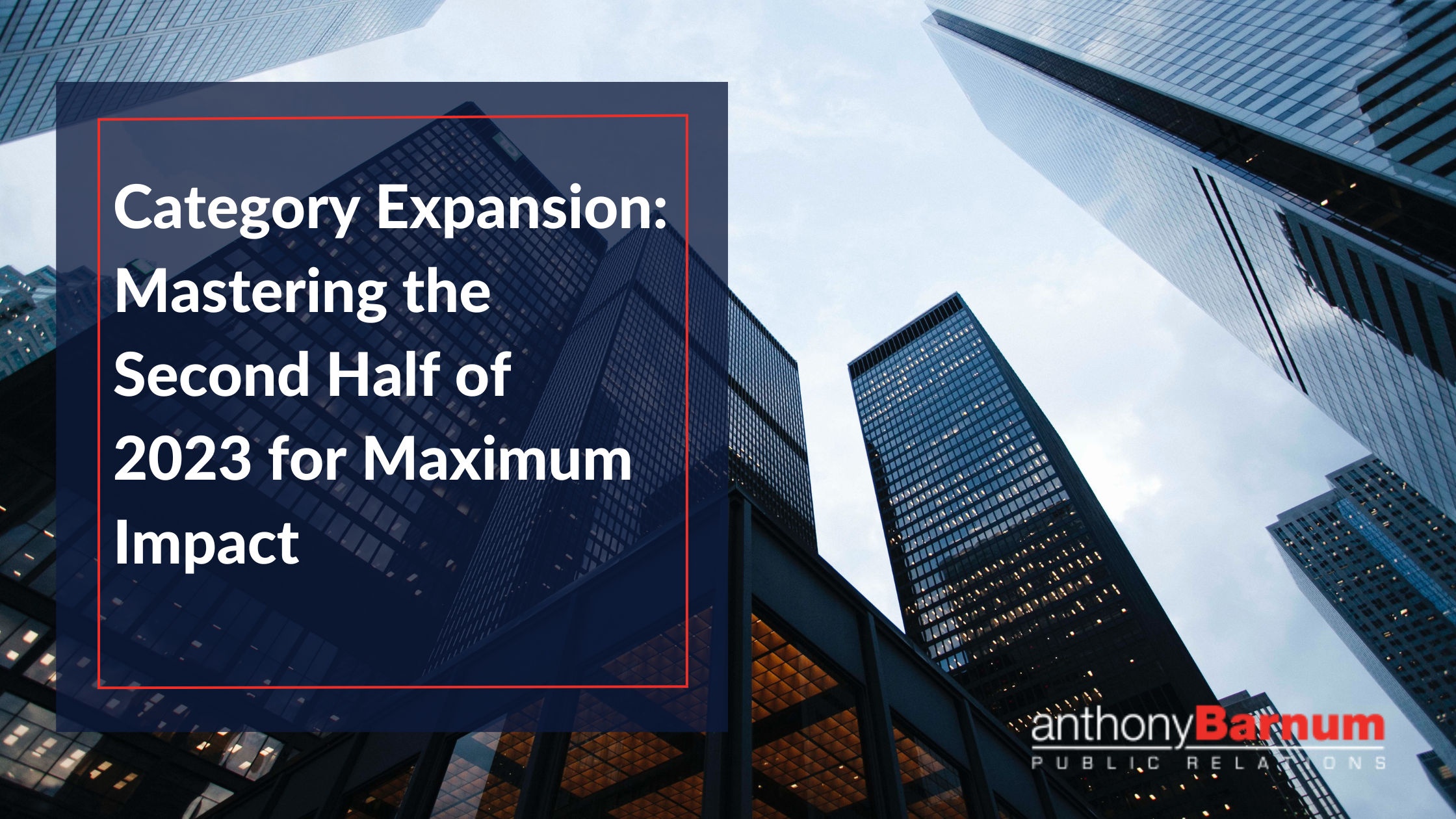 We are approaching the half-way mark of a turbulent year. Many marketing executives, after sitting on the sidelines for the first half of the year, are drawing up strategy plans to aggressively close out the year. While SVB's collapse shook B2B technology companies across the country, the pace of innovation remains too high to slow momentum. 
Economic reports vary, but it's clear to anthonyBarnum that companies who have the capacity to double-down on their markets are snapping to attention and seeking to make gains in their market. In April, I covered how critical it was for companies marketing the benefits of their AI capabilities to get out in front of PR. But I want to also raise the flag of urgency across B2B technology platform companies. The innovation economy cannot be stalled for long – too many sectors, too many processes, and too much transformation needs to take place. Tech companies have to step out and take their markets strategically.
To that end, here's what marketing executives need to know about owning and expanding their categories.
In the Lull
Is this the lull before the boom? While economic forecasts remain astonishingly contradictory and hard to decipher, venture capital and private equity funded companies lead recoveries and economic growth. anthonyBarnum is seeing many companies taking the leap to invest in their marketing at a much more aggressive scale in comparison to last year or the first half of this year. At this moment we're seeing early birds strike out. It would behoove forward looking tech companies to get ahead of their competitors to establish share of voice at scale.
Get Ahead
Based on anthonyBarnum's deep metrics-based case studies, we show that tech companies that work in advance of their competitor ecosystem can get so far ahead in earned media-driven brand reach that competitors cannot reasonably catch up. If a tech company can own its market vision and voice in advance of its competitors for six-months before its competitors get out of the gate, it will be nearly impossible to catch up. A PR campaign takes two to three months to establish. The following six months cement the company's position as a thought leader to its verticals and beyond. A competitor working with a less proactive or thought leadership driven PR initiative will always be in second place. 
Invest in Thought Leadership
Compelling thought leadership PR strategies can carve out entire concepts in technology and markets. A well-orchestrated PR campaign that moves from vertical markets to Tier 1 national business can create brand equivalencies with entire technology-driven concepts. Getting out in front of the competitor ecosystem is key to accomplishing this objective. It also requires next level analysis of concepts to fuel compelling narratives that drive coverage. 
Bring it Together 
As we approach the latter half of 2023, B2B tech marketers need to be aware that some of their peers are ramping up on their PR investments. There is a unique opportunity to take advantage of a slower set of market dynamics as we head into the second half of the year. Tech companies have a unique opportunity to build out a thought leadership campaign designed to take over the narrative in their markets. If they remain consistent throughout the remainder of the year, they are positioned to get so far ahead of their competitor ecosystem that competitors cannot easily or instantly catch-up. 
Being a first mover in a market can position a company to have the winning valuation for an entire category– while competitors, then, have to position against the pre-established frontrunner. 
We're having one of those moments where B2B tech marketers have an opportunity to carve out their own path through PR – before investing scales up again.