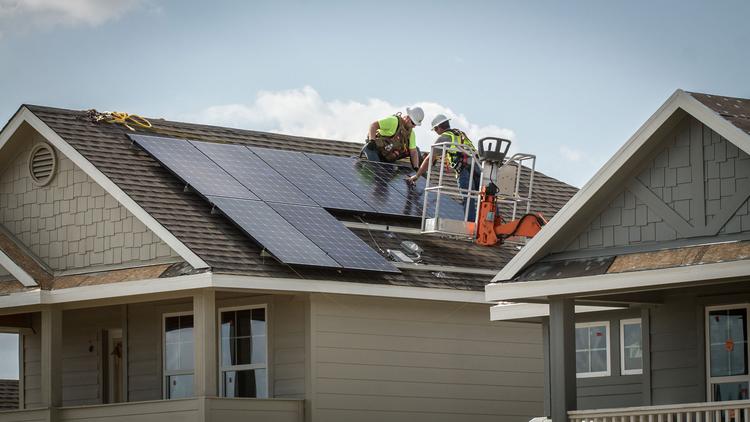 Texas is making a powerful impact as a national leader in solar energy adoption and smart home creation.
Just last month, Lennar, the largest national homebuilder, unveiled a WiFi-powered smart home near Austin that it says will be the model for those in at least 49 different communities in the Central Texas region and all its homes nationally. Lennar constructed the home in partnership with the Amazon Echo business unit, which produces the famed Alexa voice control system. The home includes a thermostat, lights, locks, entertainment systems and a range of other devices that can be controlled with voice commands.
Five years ago, virtually no one had heard of a "smart home," but within the past two years, this technology has become a staple for mainstream consumers. Most of today's homebuyers evaluating two identical homes prefer one with smart appliances, per one survey, and analysts predict that 50 percent of all American homes will be "smart" by 2020.
And smart homes are just a small slice of what's happening in the market.
The Energy Thought Summit, coming to Austin for its fifth year March 26-29, will assemble industry, government and utility professionals to talk about not only these new technologies and their application, but also about the way autonomous vehicles will impact energy and how people will exist with AI in a progressively AI-driven world.
That market impact is certainly quantifiable. Austin currently generates 35 percent of its energy from renewables, and Texas has added 1.8 gigawatts of solar to date. Last month, developers started working on the Midway Solar project, which will eventually generate enough power to run 50,000 homes in the Austin area. The Texas solar industry now employs approximately 10,000 people, more than double the number of solar employees three years ago.
Meanwhile, renewable prices will continue to drop. In 2017, solar costs hit "jaw-dropping" lows in every region of the world, according to Greentech Media Research. Prices will continue to decline over the next several years, too, according to Greentech, which expects a 27 percent drop in average global project prices by 2022.