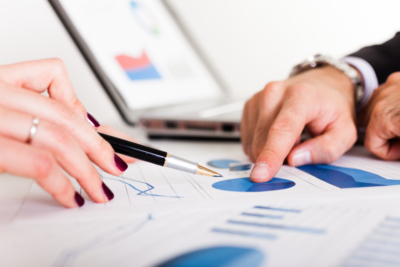 Measurement, metrics and data — the seemingly age-old question about the ROI of PR. Data marketers and their CEOs are left scratching their heads with inconsistent expectations across the PR genre. Marketers agree that a robust and results-focused PR campaign is of high value for driving leads, strengthening the brand and positioning or owning a category.
Coverage for the sake of coverage — without regard to the alignment of the outlet with objectives or messages buried in barely relevant narratives — is not productive for marketers. To further analyze metrics, let's set the bar high and define coverage as intentional.
There are two distinct avenues for assessing and predefining intentional earned media metrics.
The External Composite
The opportunity for media coverage can be captured and measured by quantifying the environment for coverage. The equation, then, is number of media outlets + known interest levels in the subject matter.
Here are two examples:
Company A has an innovative software it sells to developers and OEMs. This software is a form of computing input that is competitive with a top 10 technology company's consumer offering. Thus, to prepare for the PR campaign, and determine likely outcomes, the PR team can categorize the reach of the top 10 technology company's earned media coverage with its last product launch. Then, the team can categorize the reach of general interest in the subject and analyze, qualitatively, the top 10 technology company's efforts left on the table. For example, a top company may have a good product launch strategy that performs well but does not focus on the product thought leadership angles that would extend the reach of its launch. By categorizing the coverage, matrixing the outlet circulations and analyzing what could be done from a thought leadership perspective, anthonyBarnum can determine what is possible, and then reverse engineer Company A's program to mimic and outpace.
Company B needs to enable consumers' utilization of technologies and is seeking to move from region to region to educate end users. Company B is seeking to move from region to region to educate end users. The team can categorize and quantify available regional media impressions. Looking at the regional culture and motivators, they can also determine what approach, and through what type of spokesperson, is likely to resonate. Then, the team can quantify an approximation of reach and impressions to develop a target metric based on composites from other regional enablement/awareness campaigns.
The Internal Composite
A strategy utilized extensively by anthonyBarnum is to compare like campaigns based on the firm's own data of outcomes. With dozens of case studies supported by an advanced data-capture timekeeping system, anthonyBarnum can provide estimated earned media cadence metrics in advance of engagement— an uncommon approach in the PR industry. Based on our case studies, we can concept-out the objectives of an earned media campaign and compare similar campaigns with the same characteristics.
Most innovation companies are struggling on product thought leadership, a form of advanced and nuanced public relations that positions not only the solution-set impact via PR, but links the differentiators to a broader category narrative.
Product thought leadership campaigns, whether for an analytics software company or a software company that has a solution targeting a tight vertical niche, have many characteristics that can be extrapolated to build a composite, such as:
The marketing team is already working from an account-based marketing strategy standpoint, so the audience itself is highly defined and targetable via sophisticated trade outlets.
As a result of the account-based focus, the pain-points of highest interest are already known.
They have an innovative approach and interesting differentiators that are built on meaningful, impactful and category-defining insights into the challenges of their segment.
anthonyBarnum cross-references innovation product thought leadership campaigns as an internal knowledge center to provide prescriptive outcome frameworks and metrics about the number of intentional placements that can be achieved based on an execution strategy.
Metrics are a measure of productivity. Before investing in a PR campaign, it's important to understand the methodology for deriving outcomes. Marketers should know that the magic isn't just in the metrics either, but in the way the campaign is approached to systematically drive intentional and meaningful outcomes.