Early on in my PR career my friends and family asked me what it was that I did every day. I imagine they had the notion that a career in public relations involved "lunching" with clients and wheeling and dealing with influential journalists and television producers, all while constantly sipping on sugar-free iced lattes.
After a few failed attempts at trying to cram an entire PR campaign strategy explanation into a window of interest that usually lasted around 30 seconds, I developed a new approach. My answer now goes something like this, "Though my job entails everything from marketing communications and branding to crisis communication and strategic social media campaigns, a large portion of my job is essentially developing and maintaining mutually beneficial relationships with reporters and journalists." The idea being that if I play my cards right, through well-planned media outreach, I'll always have a repository of reporters and journalists available to my clients. This not only serves my ultimate goal of securing valuable organic media coverage for my clients, but it also supplies these reporters with readily available experts and thought leaders who serve as critical sources to support their articles. I've now clocked this response at around 36 seconds. It's a work in progress, but now I get more nods and fewer glazed over looks. I call that a win.
The relationships PR professionals build with reporters are not easy to come by. When I used the phrase "well-planned media outreach" earlier, that was a vast understatement. Though we need journalists to adequately do our jobs, journalists typically rely on us a little less and thus have the upper hand in the relationship. To put it into perspective, on any given day a journalist is barraged with hundreds, if not thousands of pitches, many of which are either ill-fitting to the reporter's topic of interest or just terribly written. In other words, if you want to attract that special reporter, there are several obvious, yet strategic steps to keep in mind when developing your outreach strategy.
Below are a few tips on how to improve your value as a PR professional and ensure your media outreach gets noticed, and more importantly, read by our most important allies in the PR game.
Craft relevant pitches
According to Cision's 2019 State of the Media Report, 75% of reporters surveyed said that "less than a quarter of the pitches they receive are actually relevant" to their readers. It's crucial to do your research or risk alienating yourself and your agency. Therefore, make sure that your pitch or press release includes a relevant news hook specific to the publication's audience. Trust me, when deadlines are mounting for these journalists, sending irrelevant pitches is one of the easiest ways to get your email address blocked.
Be concise
Your goal is to enable target reporters to summarize your pitch in less than 10 seconds. Therefore, it is essential for you to get to the point quickly with a relevant news hook. It's also vital to avoid buzzwords or industry lingo when drafting your pitches and press releases, especially if you're contacting reporters outside of the client's industry.
Note, there are times when you may be targeting trade media or vertical-specific publications that might appreciate more complex pitching, but either way it's always better to be brief and concise. The more time it takes for a reporter to see the purpose of the pitch, your chances of getting a reply significantly diminish.
Utilize visuals and infographics
When it comes to press releases and announcements, PR pros need to ensure they're equipping journalists with the imagery and visuals they need to support their stories in a visual age. According to the Cision survey, 74% of journalists reported that the most engaging content they received included visual elements such as images, infographics and videos.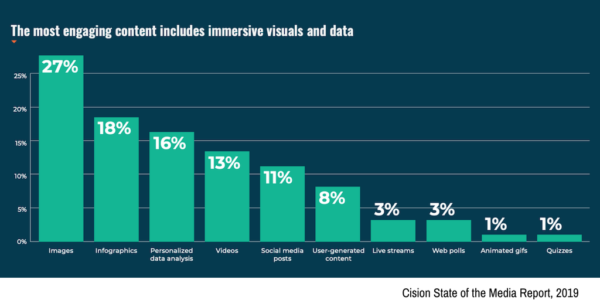 Keep in mind that sometimes email attachments or too many linkbacks may cause your emails to be rejected by a publication's spam filter; make sure that you include verbiage to indicate you have visual collaterals ready to go if they're interested.
Pay attention to timing
One of the most important facets of outreach has to do with timing. PR pros need to have some sort of understanding of the reporter's daily/weekly news cycle. A grasp on the media outlet's cadence and deadlines will ensure you contact journalists at the most opportune times.
For example, business journals typically publish every Friday, so it's unwise to pitch them late in the week. Understanding a reporter's day-to-day schedule is sometimes impossible, but when in doubt, check their editorial calendars. You'd be surprised by the deadline and timing patterns that emerge from some quick research.
Additionally, timing applies to calls and subsequent follow-up outreach. So, make sure to include follow-up timing in your initial outreach strategies, especially if publication timing is a top priority for your clients.
Cision's 2019 State of the Media Report recently shed some light on a few of the biggest challenges PR professionals and their journalist counterparts face today. The 2018 State of the Media Report revealed only 8% of journalists considered their relationships with PR professionals to be "valuable." However, in 2019 that number jumped to 27%; not perfect, but that means we're on the upswing. Incorporating the above tips into your media outreach strategy will help build positive, long-lasting relationships with the media that demonstrate value and produce meaningful coverage.