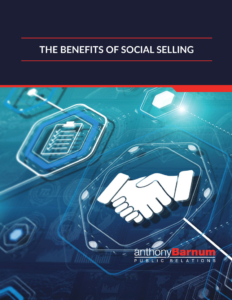 A good social selling strategy helps brands explain complex messages, build an ecosystem that engages customers and industry influencers, and amplify demand generation.
It's an effective way to grow lead generation. Getting in touch with prospective customers, and remaining on their radar, is a challenge. The old ways of going about it don't work. Ninety percent of decision makers today, for instance, say they never respond to cold calls. Since information is available on the web on just about everything, customers are increasingly prequalifying themselves before engaging with a vendor. One survey found that customers are, on average, 57 percent of the way through the purchase process before they ever engage with a sales professional. Another survey found that 75 percent of B2B buyers use social media to be more informed about vendors. More than ever, a social selling strategy is critical.
So, what is "social selling"? The LinkedIn Sales Blog defines it this way: "Social selling is leveraging your own professional brand and social network to gather insights and connections, then using that information to help you discover new opportunities, sell and get business done."3 Think of it as a lead-generation technique grounded in social media.
More articles are available on our ePapers page.
Contact us for more information on how your organization can benefit from high-impact public relations and social media.
515 S Capital of Texas Hwy, Suite 240, Austin, Texas 78746 — 1-512-329-5670 – info@anthonybarnum.com