Strategically crafted content is the heart of any successful marketing strategy, and the best way to consistently generate new content and amplify existing thought leadership is through a PR campaign paired with blogging. Blogging has grown in popularity over the past few years for B2B companies, with 53% of marketers reporting it is now their top content marketing priority.
Companies that prioritize blogging efforts are 13 times more likely to experience positive ROI. By utilizing evergreen content such as listicles and tutorials, companies can produce authentic, engaging thought leadership content for their target audience. B2B subject matter is often complex, jargon-heavy and sometimes difficult to articulate. However, the casual, conversational tone of a blog can help to communicate a company's expertise and service offerings in more simplified terms – this does wonders for website visitors.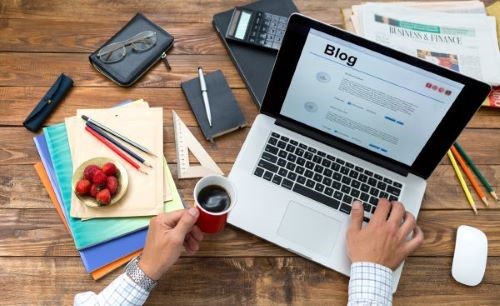 Offering consistent blog content also helps convey a company's personality or brand, which is largely important in establishing connections with prospective customers. Discussing timely industry stories or presenting compelling questions or solutions to pressing matters through blog content is a great way to help stake a company's claim in its space. This strategy also supports additional content marketing efforts, as the language can be repurposed for social media posts, newsletters and other collateral such as videos or infographics.
When paired with PR, a quality blogging program offers a pallet of concepts that can be repositioned into earned media. When PR campaigns are in initial formation, anthonyBarnum often seeks to extrapolate ideas from the blogs with the most engagement for initial thought leadership concepts. It's not uncommon to find multiple media concepts within a single well-conceived blog.
Conversely, if the blogging content program is underperforming, the PR team can help marketers create a deep set of thought leadership concepts by synthesizing and cross-referencing product/offering differentiators with trends and analysis in the earned media environment. Together, PR and blogging offer a rich thought leadership ecosystem.
Here are a few interesting stats on the value of blogging:
Closing revenue – According to HubSpot research, 42% of companies have acquired a customer through their blog.
Supporting the buyer's journey – The blog content that is most heavily consumed by leads offers invaluable data. According to SiriusDecisions research, the average B2B executive buyer consumes 17 pieces of content over the course of a sales cycle!
Improving SEO – One of the most powerful tools to build SEO is PR. While editorial placements rank the highest of all content, fresh content also assists with search engine ranking. By publishing consistently and utilizing the right keywords, companies can help retain their competitive ranking through blogs.
Enhancing lead generation – Consistency translates into revenue as companies that regularly post blogs as part of their content marketing strategy receive 67% more leads compared to those without blogs!
A fresh, insightful blogging program drives efficiency to a PR campaign, and vice versa, through origination of thought leadership and concept refinement. Together they are a powerful pair for building brand and converting prospects.