Decisions related to investments in marketing should be considered not only within best practices, but also in context of the bar that is often already set within the competitor landscape. Brands need to track and measure ongoing performance related to their key marketing metrics. They also need to go further and review their competitors' outputs and brand standing – in comparison to their own and within the competitor ecosystem.
Today, leading innovative companies project their investment in marketing to the world – it emanates from their website in the form of design; it's carried through their social media posts and following; and it's manifested in their owned content. If you drill down and analyze, the output of marketing investments can all be ranked for clarity, differentiation and relevancy.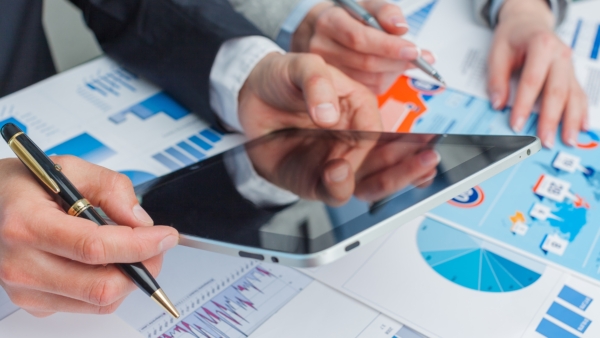 For example, through a SWOT analysis, everyone can see what is on par, under par and above par. Here's the process:
anthonyBarnum creates a SWOT Scorecard to pinpoint exactly where a company stands from an external marketing perspective among competitors and admired companies. In this process, we measure visual identity relevance; message/differentiator clarity; categorization of PR (corporate news versus product thought leadership); social media best practice form; and quality of owned content.
In a score-based system, our team of experts are able to quickly identify company's strengths and weaknesses, and the prominence of their differentiators. With this data, our clients then know where they stand and what to invest in. The Scorecard is not the brand audits of yore. It's a succinct method that is digestible and actionable when paired with world-class best practices in marketing.
There is often a lot to gain by comparing a company to its competitor universe. Here are some takeaways to consider:
In Company A, the sales process is advanced and driving growth, but the marketing is below par for the industry segment. Maybe the mid to bottom of the funnel is a paradise of precision, but fewer targets are making it into the funnel because they are not being marketed to externally en masse. Its competitor, Company B, is growing too, but more slowly. Its marketing is spectacular with fresh content, media validation and an engaging social media presence. This means Company A would get to the next level if it focused on the external marketing to drive top of funnel.
The SWOT Scorecard is about knowing where par is externally – corporate leaders cannot truly measure effectiveness or know how to resource it until they look in the mirror standing beside their competitors. The results of a SWOT are not about "nice to haves" – they are about directing connection, engagement and validation to drive revenue.
anthonyBarnum will always promote investment in the vision, technical expertise and experience of a marketer or team of marketers who can come together to execute against a SWOT. A great complex sector product or service that solves a multifaceted series of pain-points without an equally great marketing strategy – which requires interpreting competitors in detail – is like a can of paint with no paint brush.