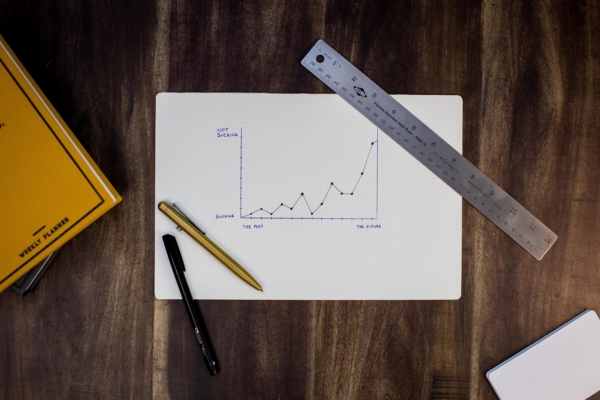 Part 2 of our Share of Voice Series. Read Part 1 here.
Public relations experts could measure PR back in the day, but – as we discussed in Part 1 of our SOV series – it wasn't the most efficient process. As the internet became the source for news, and complex subject matters could be easily searched, earned media placements became increasingly valuable to marketers' goals.
With the advent of Share of Voice reporting, marketing executives have an exceptional tool for not just measuring PR, but establishing a baseline, engineering PR strategies in context of their market, and reporting impact of their efforts. 
The Initial Report Reveals Baseline
The anthonyBarnum team often runs an SOV at the commencement of a campaign. The report is typically run with a list of top competitors to measure number of mentions and audience reach. Our recommendation is to keep the number of competitors to no more than 4 to 5. After the information has been gathered, as mentioned in SOV Part 1, it's important to cull it for precision and double check its measurements and automatic attributes. Not doing so can greatly distort numbers. 
One example is placing an essay in Medium, which is more of a social media and owned content site than an editorial site. SOV measurement tools will automatically attribute tens of millions of circulation to a placement, even if it's highly likely only dozens stumbled upon the piece. These types of quirks, again, require a trained eye to cleanse the report of distractions. 
Once this has been completed, what marketers will find is an insightful visualization of their company's reach and position in the media in comparison to others in their category, along with the accompanying media coverage. Often we see reports for clients, initially, that confirm they are behind the curb. As the majority of our clients are private equity or venture capital-funded companies—they find themselves competing against incumbents who own a significant portion of the category's conversation and thought leadership. They are well aware it's on the marketing team to dramatically raise the company's profile and develop a meaningful narrative about the differentiation of their solution to their market. Knowing where to start is important to building the plan. 
Engineering PR Against the Findings
Every marketer has their work cut out for them, and tangible data is their only way out! With an SOV in hand, a plan can be made based on the factors of their category. It's often the case that there is a drive, after an enormous investment and recalibration of an innovation company, to gain market and mindshare without delay. This is where the SOV can be particularly useful. 
Key Steps to Taking the Baseline SOV Report and Building a Plan:
Extrapolate out the most important competitors' monthly coverage to get a sense of frequency and message density of placements.   

Categorize the types of coverage generating results, such as press release news coverage versus profiles on the technology.

On higher quality editorial coverage, rate the message saturation. 
With this information in hand, we can determine a cadence of activities to overtake the competitor in terms of reach. Often the key factor is going to be time: Overtaking a competitor in a shorter amount of time will require a more aggressive, creative, and time intensive campaign, which will require more budget. Based on pre-existing case studies, and after considering the dynamics of the likely campaign, however, an estimate can be projected of the most cost-effective and time efficient set of tactics for gaining on competitor SOV. 
In some scenarios, it makes good practical sense to map out a 6 to 9 month plan for steady results toward overtaking a company. In others, the company needs a more aggressive 3 to 4 month approach. And, in some really interesting cases, no one has yet to control the voice of the category, thus presenting an opportunity to be an aggressive frontrunner.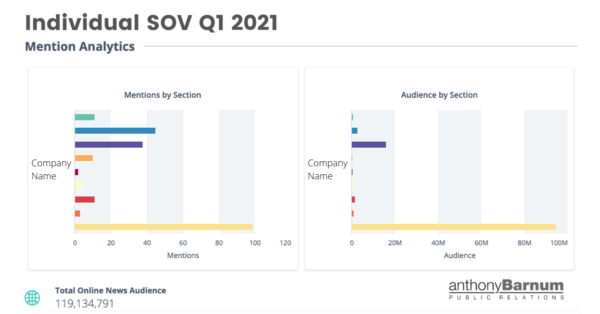 Reporting and Impact
Perhaps the best part of SOVs is the reporting capability that will clearly define the number of mentions and the reach of circulation of the PR campaign as it progresses. Often anthonyBarnum is commencing with organizations that have minimal prior earned media coverage. After just weeks of an initiative in motion, the SOV will track the change; we typically recommend about 3 month increments for reporting. However, after 6 months, the SOVs tend to show the biggest growth curves. The PR program can continuously be evaluated for its momentum; it can be compared to competitors; and calibrated for depth.
Executive marketers are increasingly leveraging SOVs as a way to report on the progress of their investment in PR. It's a clear and objective way to provide executive teams and boards with data on an area of marketing that is critical to category ownership—it looks great in reporting decks. 
Traditionally PR was a trickier marketing effort to quantify. Category platform companies need the objective measurement. Marketers working to reshape entire facets of industries with their products cannot allow their competitors to dominate the conversation in the media. They must win and lead in PR to communicate their innovation and edge or sit in the runner up seat. Through SOV reporting, marketers  have a practical tool for building and executing a roadmap for owning their category's voice of innovation. We anticipate it will continue to take hold as the de facto reporting mechanism for serious public relations efforts.