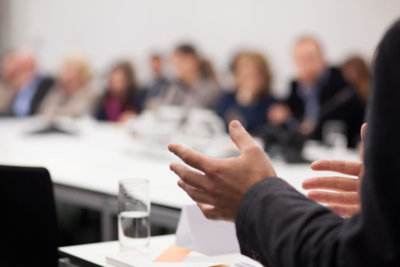 The reality is every robust marketing strategy has facets that fall flat at one time or another. PR can offer big rewards, but also has its risks, if done well.
One of the main goals B2B marketing executives are tasked with is to engage target audiences with their brand – to drive interest and boost the marketing pipeline. PR is one of many tactical approaches to connect prospects and drive leads.
PR programs and initiatives that are truly successful connect with audiences' pain-points; present more efficient solutions; and offer ROI as the end game. Conveying these concepts means developing a narrative that is data-driven, creatively engaging and highly relevant, if not urgent.
Why should companies take risks and how can they be optimized? Here are three considerations:
Being good isn't always good enough.
Often a strong PR campaign means dramatically raising the company's visibility and making bold assertions. For some companies that are transforming markets, staying quiet can mean limiting their very core potential. For those unique companies pioneering transformative solutions, PR can be a platform for changing how an entire market thinks. By not taking risks in PR and marketing, companies can lose out on opportunities such as defining the next generation of solutions. In this same vein, waiting to lead can open up the opportunity for competitors to make tracks as the definitive resource on a solution.
Don't lose track of the vision in PR.
PR campaigns can get off center and start focusing on elements of a company that may not be core to the real business objectives. In strategic planning, the messaging priorities that are of the highest value need to be predefined, along with the most important audiences. Marketers need to ensure that while their PR campaigns utilize creativity and take risks, they also stay focused on what's most important to the business. Focus on tangential commentary or media opps that don't connect directly with the market innovation can leave audiences confused about the value proposition.
Be prepared to pivot.
A good PR team can assess the objectives of a campaign, provide likely metrics and define how to optimize ROI. They can also help companies walk the line of bold assertions that are meaningful and concepts that may have holes.  It's important for marketers to come to the PR table with their input but also allow the experts in the field to shape that input into a strategy that can be successful. It's also important to have an agile PR team that can gauge the success, or lack thereof, early on and make necessary pivots – either to add to the momentum or to change course for a more productive strategy.
PR is a big risk that marketers can embrace in order to elevate their brands and lead their market. As with all risks, it's important to have a thoughtful approach to the strategy, stay on mission, and be willing to make shifts if necessary.
Often the bigger risk is missing out on positioning a company to be a leader in its segment.