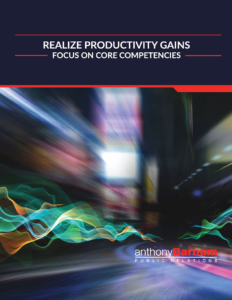 A recent poll surveyed 1,650 European midmarket businesses and found that among their top five priorities was productivity improvement. TechAisle, a market research and industry analyst organization in its annual U.S. survey, found that improving workforce productivity is the number one challenge for midmarket firms in 2018.
A Deloitte survey on midmarket technology identified that "productivity is one of the top priorities in business today." Deloitte's chief global economist adds, "In the long run, productivity gains are mostly generated through innovations in technology and in the way that businesses manage people and technology."
Outsourcing can provide tremendous leverage for businesses seeking to increase productivity. anthonyBarnum offers clients ways to enhance their productivity by helping better manage a workforce and providing technology resources.
More articles are available on our ePapers page.
Contact us for more information on how your organization can benefit from high-impact public relations and social media.
515 S Capital of Texas Hwy, Suite 240, Austin, Texas 78746 — 1-512-329-5670 – info@anthonybarnum.com