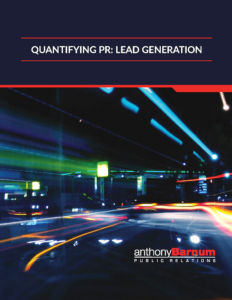 Public relations campaigns come in all shapes and sizes, and are built to serve a wide range of objectives. Core content can be restructured and reassembled to work in different ways and in different environments. That's one of the strengths of PR: It offers tremendous flexibility.
Some PR campaigns are structured to build brands or promote partnerships. Other campaigns are extremely tactical, designed to directly generate leads. These usually include a call-to-action that sends prospects to a qualifying webform, which in turn captures names and funnels them directly into a customer relationship management (CRM) database for further engagement and progress toward a sale. Occasionally, these calls-to-action attract prospects who are ready to buy, have a budget and are seeking a bit of direction.
More often, though, PR campaigns have a slightly softer sell, promoting brand attributes, developing thought leadership and building big-picture industry vision. But, all PR campaigns, in some way, should serve the bottom line: Attracting prospects, keeping them in the pipeline and helping to deliver qualified leads.
More articles are available on our ePapers page.
Contact us for more information on how your organization can benefit from high-impact public relations and social media.
515 S Capital of Texas Hwy, Suite 240, Austin, Texas 78746 — 1-512-329-5670 – info@anthonybarnum.com