Complex, B2B sector marketers are building strategies based on data. Their job is to drive leads through a complex system, and to enhance the brand and its value to its revenue generating audiences. Marketing executives often love public relations, but they wonder if the investment can deliver ROI that is calculatable.
In July, I published the blog, Earned Media is Vision, not just Lead Gen, but it still remains a powerful force for lead gen.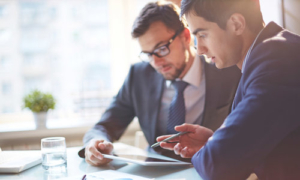 Marketers need more than one tactic – or more than one or two nets to draw in their revenue generating audiences. They need to wrap together a brand that is influential to their target markets, encompassing, powerful, and to the greatest degree possible, deeply responsive to pain-points and the needs of  their customers. While marketers need many tools in their arsenal, they also need vast amounts of efficiency to rationalize the spend-to-investment equation. PR can and does drive leads into organizations, when executed at a high level.
Additionally, marketing systems can be calibrated to measure the impact. When lead gen measurement is paired with a compelling and visionary thought leadership-earned media program, marketers get both the x-factor impact of PR and the benefits of their systematic, data driven approaches.
Let's unpack these concepts:
PR drives leads – When a campaign is designed with precision, it will drive vast amounts of leads and connection. anthonyBarnum defines precision by architecting thought leadership concepts that build on a specific equation:
CONCEPTUAL THOUGHT LEADERSHIP = Differentiators of the company's brand identity and market offering + the nuanced conversion happening in the media about the market + the prospective customer-centric need
When these elements come together, the resulting coverage is a powerful force at a high velocity. It up-levels the message – and nothing in marketing is going to be more powerful at connecting to prospective customers than high-value insights designed to support their needs. By necessity, PR concepts must be that meaningful to make it past today's media.
PR can be a catalyst for efficiency – By creating thought leader concepts based on a strategic equation of key elements, marketing has a fresh and meaningful distillation of the brand's priorities in a new form. As the campaign moves from outreach to results, marketing also has new assets being created, including credible placements and bylined articles. These pieces can be leveraged across social media and demand generation. The concepts distilled within can easily be converted into other purposes.
PR can be measured for its impact on leads – Reach, circulations and eyeballs are old-school ways of measuring the impact of PR. The new school is about calibrating internal software, CRMs, marketing automation and lead gen systems to measure the increase in valuable leads as a result of earned media. While it requires marketing infrastructure, there are also short-cuts that can be leveraged, such as tracking engagement on social media. To learn more about the intersection of lead gen and social media, check out our November ePaper.
PR is not a "nice to have service" in a full marketing strategy – it is a facet of the ecosystem that, when executed with the right intent and strategy, can be an ultra-powerful magnet for leads.