Share of Voice Part 1
All marketing efforts must be measured for their return and support of a company's business objectives. Share of Voice (SOV) reporting is increasingly important to marketing executives, particularly in high growth innovation companies seeking to create or take over categories. SOVs are far more sophisticated than techniques of the past, though they still require a fair amount of interpretation. 
In a multipart series, we will explore what SOVs offer marketers in the context of measuring PR and how to use them to create a category ownership strategy.
How Far We've Come
Back in the day, (which I refer to as the late '90s),  math equations were used to compare the cost of advertising to an earned media placement – an equation based on column-inches of print media. The thinking was that PR placements were a more or equally effective substitute to print ads. The rudimentary equation captured the value of the media outlet based on its ad rates. With the internet emerging as the information superhighway (remember that?), fuzzy versions of column-inch measurement were in play for a digital format….which began to make less and less actual logical sense as more media rolled online. 
As the Dot-Com Boom boomed and the century wrapped up, we also saw B2B technology companies embrace PR for its ability to communicate complex subject matters that were impossible to convey in one-dimensional ad placements. The world of advanced online advertising remained in its infancy, as B2B tech leaned heavier into PR.
Multiples started being attributed to ad-equivalency models to account for the increased retention inherent to PR over ad content. This early model for attempting to quantify PR, however, began to fade in the early 2000s as marketers advanced search engine optimization and demand generation to reach their audiences and online content proliferated. As these techniques evolved, so too did the value of PR as new and complex software and related technologies continued to emerge. 
PR's Influence Increases 
As we approached the end of the last decade, we saw how editorial content was seismically more influential than advertising. It became clear that earned media in its online form dramatically complimented and boosted SEO and served as valuable social, website, and sales content assets, as top search engines weighted editorial content much more heavily than other forms of company produced owned content.
Clearly column-inch mathematics with random value equations do not cover the purpose, vision, and necessity of public relations in 2021. For many years new technologies have been emerging to try and capture the reach and proliferation of editorial content. Initially these platforms were accessible only to the largest of global companies. Often capturing 'social' trends was a key priority, even by leading B2B tech companies. Global "listening centers" popped up to do just this. However, over the last five years, SOV platforms have dramatically decreased in cost and are now accessible to innovation companies through top PR firms. For anthonyBarnum, they are now an integrated facet of nearly all campaigns to gauge where the company ranks in terms of "owning" its category through the reach of its voice.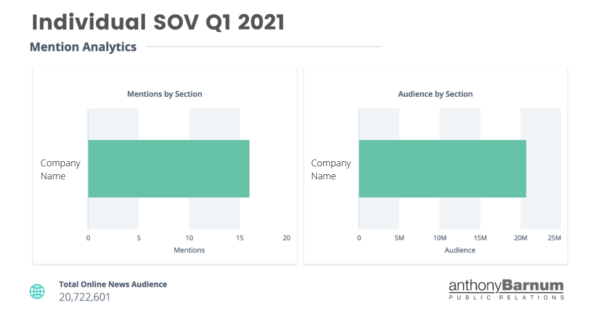 What SOVs Can and Cannot Do Out-of-the-Box
SOV reports measure two elements of earned media reach in a given time period: number of placements, and audience, the UVM (unique visitors per month) or the circulation of placements within a specific framework of time. 
While an important measure, there are important limits to bear in mind:  
The quality of the placement measure, or its influence on the message of the editorial piece, is not measured

Mentions must be curated to weed out truly useless pick-ups

If a company name is extremely common, much context around the name and search has to be built in and evaluated to gather meaningful data

UVM numbers need to be reviewed (if you want precision) against other tools' data to verify accuracy

Companies with aggressive press release strategies can overtake the "mentions" section of the report with releases that get picked up on low quality sites
While SOVs present a picture of momentum and reach, they still lack measurement of the context of placements without significant manual data culling. But, with those limitations in mind, once a marketer has this picture, there is an important opportunity to leverage it to build a PR campaign designed to outpace competitors and overtake the conversation.  
In our next post in this series, we will dig further into the value SOVs provide and how they can be used to track against competitors and category ownership.