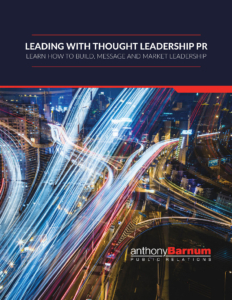 A thought leader is a person or organization with an expertise and vision that makes an impact on business, industry or society – sometimes all three. A thought leader brand drives the conversation, priorities and points of focus on topics critical to their audiences. This leadership can extend, not only within a sector, but to a wider audience that includes the mainstream media. When a public relations thought leadership campaign is successfully crafted, not for an individual, but more broadly for an entire brand – that brand is rewarded with a growing reputation, a higher valuation and, most importantly, greater awareness of its core differentiators.
anthonyBarnum collaborates and represents many companies that seek to develop and refine thought leadership platforms built on a differentiated product or service offering.
More articles are available on our ePapers page.
Contact us for more information on how your organization can benefit from high-impact public relations and social media.
515 S Capital of Texas Hwy, Suite 240, Austin, Texas 78746 — 1-512-329-5670 – info@anthonybarnum.com