Every innovative company reaches an inflection point where it's time to take over the conversation. Their transformational technology is changing an entire industry and they now need to bubble up past their target buyers and contextualize the impact to a broader audience.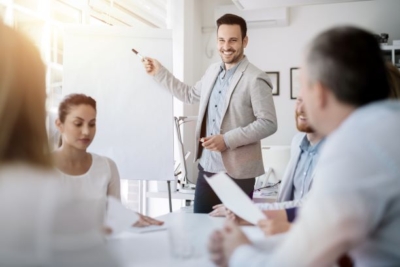 It's not uncommon for innovative companies to own their trade environments over time. While maintaining those relationships is essential, these companies often struggle to break through to coverage in the national media, even if the company is transforming its market segment.
At anthonyBarnum, we've worked with dozens of companies to get there. Here are the key takeaways:
1) National media coverage rarely happens spontaneously. For innovative B2B companies transforming education, health care, real estate or business processes, spontaneous Tier 1 national coverage is a rarity. Typically, the innovations are nuanced and their power to transform a market requires significant contextualization. In a busy marketplace of concepts, the only strategy is to communicate the innovation directly to the reporter, one-on-one. Mass emails, social media posts and generalized press releases don't work with Tier 1 national media and they never will. What does work is a much more custom approach.
2)  What's in the trades is not what the national media covers. What got trade reporters' attention does not translate directly into Tier 1 business media coverage. The important information trade reporters are providing to their readership is often more specialized, industry-rich and uses concepts shared by a pool of other specialists. The innovation has to be deconstructed to show its big-picture relevancy. It's tricky because the narrative needs to align with the product differentiation and also connect to a bigger sector ecosystem of trends to be of value to both the company and the top reporter. This takes analysis ­ serious, skilled analysis ­ to strike the right balance as often as possible.
3) Growth, relevant investment, credibility. National Tier 1 business reporters do not just want great ideas; they want to see and research a track record that demonstrates impact. Investment by credible stakeholders says a great deal. Often, a press release that reports significant funding from respected sources can help to start a conversation with targeted national Tier 1 media. Speaking engagements, industry-specific awards and trade media coverage also support interest and the credibility factor with these outlets. When a national reporter gets hooked on a specific subject matter, they will dig around to find out if the company is actually perceived as a leader. A company will have a harder time going from being totally silent in the marketplace to mega media coverage in the behemoths if it doesn't have some outward presence to its core audiences. It can be done, but it's harder.
Gaining exposure in the national media is not a given, even with great trade coverage. It's also not an organic or linear process. Creating and executing a PR strategy to connect with relevant reporters at the highest echelons of the media requires an analytical and informed approach.
Marketers will be disappointed if they assume more press releases and more contacts will lead to national coverage. The reality is that the process of leveling up to the national media is a strategic initiative with detail-oriented focus.