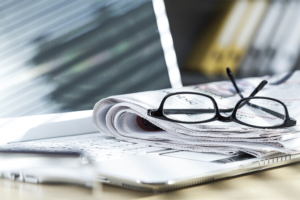 Effective marketers know securing earned media is key to building and maintaining a company's visibility and credibility. However, securing coverage can seem like a daunting task in today's 24-hour news cycle.
Whether a company is working to build brand awareness or establish thought leadership within its industry, first impressions are crucial when conducting media outreach in today's digital media landscape.
Journalists receive hundreds of pitches day after day. Here are three ways to break through the noise:
Do the research.
We've all heard the saying "first impressions are lasting impressions." However, a recent survey revealed 82 percent of journalists find PR professionals fail to research and understand outlets before pitching them.
Outreach efforts are destined to fail if the appropriate journalists and influencers aren't receiving pitches. When building a media list, PR professionals should take the time to review recently published articles by the outlet and journalist. This will ensure the pitch aligns with their interests and increases the chances of a positive response.
Craft valuable content.
Developing a comprehensive media list is meaningless if the content being pitched to reporters fails to convey a unique and timely angle. Seventy-two percent of journalists believe pitches they receive could be better tailored to their coverage.
Beyond an attention-grabbing subject line, a good pitch should outline a relevant story that will resonate with the journalist's audience. As news breaks, be ready to shift the pitch's focus while making sure to maintain the company's unique voice and message.
Here are a few key questions that should be answered before going out with a pitch:
What unique point of view can the company offer a journalist?
What current trends and stats are important to the target audience?
What supporting assets and insight can the company offer that isn't readily available?
Build and maintain relationships.
It can be beneficial to develop and maintain a cultivated relationship with a small group of reporters who cover the company's industry and have expressed interest in or covered the company in the past.
When working to build a relationship, identifying a reporter's focus area is a crucial first step that will ensure they receive relevant information that interests their readers. Social media is a great tool for easily accessing a reporter's stories and interests. Liking, retweeting and commenting on journalists' stories can also help foster a positive connection.
Today's nonstop news cycle requires PR professionals to conduct tailored outreach beyond 'spray and pray' tactics. Staying up to date on industry news and developing unique angles will help build meaningful relationships with reporters that will result in key media placements.