Audiences perceive organic media coverage, often referred to as earned media, as the most authentic form of marketing and one of the most trusted, influential sources of information. In today's digital landscape, audiences are inundated with content, making it more difficult for businesses, especially those with complex messaging, to stand out. 81 percent of seasoned marketers believe earned media has a stronger impact than paid media. In fact, 64 percent of today's web traffic comes from organic search, while just 6 percent comes from paid advertising. Earned media is increasingly outperforming paid content, and B2B companies must fine-tune their outreach strategies by creating stable relationships with key media contacts.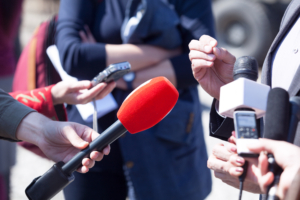 Fostering relationships with journalists, editors and producers is a crucial component of success for any business, but for industry innovators, it absolutely cannot be overlooked. This strategy can help companies become the go-to resource for their industry, which in turn builds credibility and influence. The more a company is highlighted in the media for its business development, accomplishments or expertise, the more valuable the company's insight becomes to the rest of the media ecosystem, thus driving conversions.
This volume of coverage ultimately helps industry leaders dominate their marketplace, but there are best practices and rules of conduct that play into this transaction. To formulate beneficial media connections, B2B companies should enact the following:
Pursue the right publications.Determining target audience is crucial for all facets of media outreach. Some outlets have a clearly defined audience while others cater to multiple demographics; some cover one industry while others offer a variety of beats from numerous industries. Reporters can receive hundreds of pitches per day, so only the most relevant and timely stories will be picked up. Thoroughly understanding a publication's content and determining whether a company's offering and expertise matches it is essential in kickstarting an effective relationship.
Be flexible and respectful of timelines.
Whether this means jumping on a ten-minute call with only a half-hour heads up, or attending an in-person interview on the same day, it's important for spokespeople to act quickly when last-minute media opportunities arise. Reporters often have tight turnarounds and work in accordance to their editors, so the more flexible and prepared companies are for media interviews, the better their chances are of securing a story and making a positive impression on reporters, increasing the probability they will reach out for future stories.
Plan ahead and nurture the relationship.
On the other hand, when a company knows in advance it's going to hold an event, roll out a new product or make a big announcement, it's important to brief the press ahead of time with thorough, concise information. Assisting the media in better informing the public by producing newsworthy, timely coverage is critical and supports a mutually beneficial relationship.
It's also vital to keep in touch. Personalized correspondence with key media contacts shows the publication is top of mind. Interact professionally with the reporter or outlet on social media, stay up to date on their current beats and offer similar contributed pieces when possible. These small acts will keep companies at the top of reporters' source lists.
Be politely persistent—but trust the process.
After a media interview, it's likely companies want to know exactly when the piece will run and how they will be positioned within it. Unfortunately, these details are typically unbeknownst until the last minute, and reporters rarely have control over when their work is published. Companies should follow up to thank the reporter for their time, provide any supporting materials discussed in the interview and ask once when the piece is projected to publish. Afterwards, it's best to remain patient and check the publication daily for the piece.
In the instance a company is unsatisfied with its coverage—such as if a statement is factually inaccurate or misleading— it's critical to approach the issue tactfully. Companies should reach out to the reporter right away to explain the inaccuracy and offer more appropriate phrasing. If, however, the edit is subjective or hyper-critical, it's less likely the change will be made and the reporter may become frustrated, hurting the company's chances of securing coverage with that contact in the future.
Companies have an opportunity to be a resource to the media and be considered as thought leaders. Positive, mutually respectful media relationships are valuable. Following the above steps to establish a good rapport with the media can produce a solid, worthwhile relationship while lining up additional opportunities for business growth, increased valuation and category leadership.