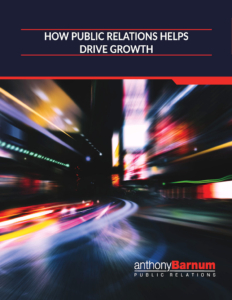 One of the foremost concerns of midmarket B2B firms is growth: Spurring it organically, gaining it by winning share from competitors and managing it. A survey of midmarket businesses by Godfrey, a B2B consulting firm, found growing market share is owners' primary concern.
"Managing growth" was identified in a separate survey as the second priority of midmarket businesses in Europe, after launching new products and services.2 Oliver Wight International, a strategic planning and consulting company, identifies managing growth as one of the top three challenges midmarket firms face, second to disciplined financial management.
More articles are available on our ePapers page.
Contact us for more information on how your organization can benefit from high-impact public relations and social media.
515 S Capital of Texas Hwy, Suite 240, Austin, Texas 78746 — 1-512-329-5670 – info@anthonybarnum.com