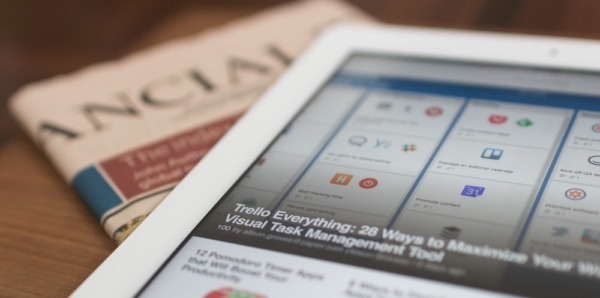 I am not a big fan of PR being referred to as "storytelling" – Does an innovation company transforming an entire market or process with advanced technology need a story told? 
Innovation and platform companies are seeking to create meaningful, impactful PR campaigns through category-defining thought leadership. And this couldn't be more imperative than now. For many companies, the latter half of 2021 and 2022 are poised to be a time of acceleration. For marketers, the focus needs to be on presenting differentiation to generate top of funnel leads. To do so, PR campaigns need to tie into macro trends, support positions with data that speaks to real pain-points, and cast an insightful vision. 
So what's the difference between PR for storytelling and PR for innovation thought leadership?  How can transformative companies catalyze their presence in the media? Here's the top three facets we consider when building out thought leadership:  
1. The Macro Trends
To make an advanced product newsworthy, there's got to be a hook that is compelling enough to gain attention. In some cases, giant macro trends can serve as news hooks accompanied by offering a position within its context. COVID-19, for example, and its impact, has served as a macro hook for a year and a half. As COVID's grip loosens, the focus has shifted to the impact of COVID on specific industries and markets. For example, the pandemic accelerated e-commerce, remote work, and telemedicine – all areas where thought leadership on how advanced platforms are driving efficiency in these segments is highly relevant. 
Other large-scale trends include the impacts of new policies and funding on industries resulting from a new administration. Examples include anticipated expansions in IRS enforcement serving as a backdrop to tax compliance software; new health and safety regulations setting the stage to lead on the need for different types of risk management platforms; and a tight labor market amid the reshuffling of industries can be a launch point on workforce platform concepts.
There are always meaningful macro trends that can offer urgency to concepts for accelerated coverage – and PR professionals should be adept at understanding the opportunities to guide marketers. 
2. Impartial Data
While framing a product platform and its value in context of the specific drivers of important trends garners attention, it's also important to frame a specific concept in context of credible and trustworthy data. The data can be complementary and help illustrate the necessity of a new solution. For example, it was estimated in several reports that 5 million workers will need new upskilling coming out of the pandemic due to its impact in the expansion of certain industries, and the receding of others. Citing the source of this data in context of a trend lends credibility and gives a sense of depth to the challenge. 
Some companies can position their own data as strong as third-party data when it captures large or meaningful swaths of a market. If the sample size, or collection of the data, is compelling and impartial on its own, its insights can be highly credible – while also being more direct about the impact. One example during the pandemic was a company who offered a series of platforms for faith-based and nonprofit organizations. They were able to track the acceleration of online donations during portions of the pandemic. The data made for a great story as it provided a quantified look into the way these organizations were rapidly adapting to a virtual world. 
3. A Totally New Take 
The trifecta is to pair a macro trend with data and an interesting new take on how companies should approach a specific set of challenges. One of the activities we recommend undertaking at the commencement of a campaign is a Share of Voice report that scours media coverage of competitors and concepts to find blue sky concepts. The objective is to develop a leadership vision that intersects with a company's innovative solution and is totally unexplored within other thought leadership. 
Many CEOs and marketing leaders already have some ideas about where there could be an intersection and what they are hearing from their target market. The trick is listening to the vision and packaging it in a way that creates a compelling argument to the media—and is not a rehash of existing thought around the subject, but genuinely insightful to the market. When that can be achieved, the result is often explosive coverage. 
Developing real thought leadership that combines macro trends, meaningful data proof-points and vision requires an analytical approach. The idea of yore that PR is storytelling doesn't work in category ownership because the audience innovation companies are trying to reach needs to understand how an advanced B2B platform will drive efficiencies and value to solve pain points—not be told a simple story.  
 Want to learn more about how we established thought leadership for innovative software companies like yours? Download our transformative software campaign snapshot.