In today's around-the-clock news cycles, PR professionals are constantly evaluating and reinventing methodologies and strategies designed to ensure those they represent remain top-of-mind. PR 101 taught us that if we want to rise to the top of the media attention pile, we must provide journalists with well-rounded, timely and thought-provoking story ideas to secure interview opportunities with important players in the media.
In our fast-paced digital world, we can easily make the mistake of solely relying on communicating by email or phone. However, when it comes down to giving a client that extra edge over its competitor, we frequently recommend face-to-face meetings or interviews to establish or strengthen a relationship with a journalist.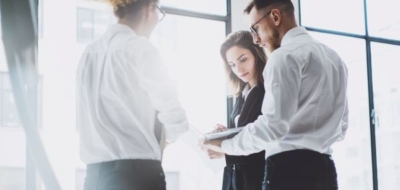 In other words, it doesn't matter how excellently crafted a pitch is, or how strong the expertise is of a thought leader – an email will never replace a handshake. By incorporating a media tour into the PR strategy, a company is able to organically position its brand and spokespeople directly in front of targeted, influential members of the press in a region or city with a concentration of journalists. anthonyBarnum's go-to is the big NYC.
A typical two- to three-day tour is a condensed, fast-paced media initiative that ultimately garners long-term relationships with the most important media for the brand. These casual, face-to-face conversations serve to increase the chances of garnering high-impact media coverage and creates top-of-mind status.
Below are a few things to consider when prepping for a media tour:
It's crucial to set goals in advance. Ask yourself the kind of headlines you want to see and work backward from that. Though it might be easy to meander into other topics and story ideas, set parameters and do your best to stick to them. However, if the reporter opens the door for other angles and avenues, definitely strike when the iron's hot.
Many reporters are expected to deliver across several different mediums, so it is important to understand the target reporter's media outlet or publication channels. Give them an array of options, including multiple company spokespeople, media collaterals and other visual assets that help tell the story.
Hope for the best, but prepare for the worst. Though that might sound dire, the main takeaway here is that it's important to go into a media tour fully aware that something could and, most of the time, will go wrong. Whether it's a national breaking news story that takes over the news cycle or a reporter canceling, know these things are a typical part of media tours. With that in mind, make sure to be flexible and remember to roll with the punches. In the end, the headlines and the relationships are what's important.
Last but not least, ensure the media tour strategy is spearheaded by a good story. The concept or news angle must be of value for journalists and their audience. Make sure to lead with vendor-neutral thought leadership. A journalist can spot a sales pitch from a mile away so lead with a pitch that holds a strong narrative including a news-worthy problem and a noteworthy solution.
In the end, tours may not always result in immediate coverage. However, they do offer something even more valuable– a stronger relationship with journalists. From our experience, big stories follow. Next time they work on an article that has to do with the company's target vertical or area of expertise, it will be a natural go-to resource. By meeting these reporters at their desks or over coffee or dinner, you're creating a memorable scene in their minds – and that immediately makes you more valuable.
Marketers, it's worth the trip. An "informational" product focused media tour spearheaded by anthonyBarnum for a B2B software company resulted in coverage reaching 140 million in combined circulation.
Why isn't yours scheduled?