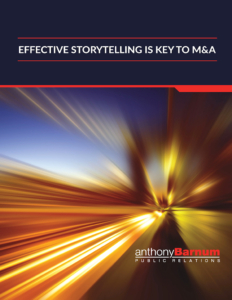 Mergers and acquisitions among midmarket companies are booming. A recent survey of 1,650 midmarket businesses found that most identified "managing growth" as a top priority, second only to effectively managing an upcoming product launch. Sixty percent of midmarket companies today say inorganic growth (acquisitions) plays an important role in their development strategy for 2018. In any given year, more than one in five midmarket companies participate in M&A as buyer, seller or both.
Moving into 2018, management is optimistic. Today's healthy financial conditions are cited by 60 percent of survey respondents as playing a very important role in their growth strategy. Whether looking to acquire or be acquired, companies negotiating a sale are in the best position when they have a strong story, a known brand and an aggressive communications strategy in place.
More articles are available on our ePapers page.
Contact us for more information on how your organization can benefit from high-impact public relations and social media.
515 S Capital of Texas Hwy, Suite 240, Austin, Texas 78746 — 1-512-329-5670 – info@anthonybarnum.com