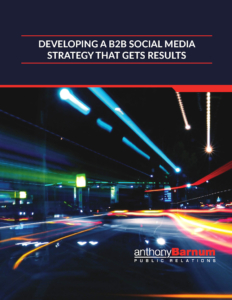 Business-to-business companies have long been under the illusion that social media isn't serious enough to effectively communicate their complex, multifaceted brand messaging. This may have been true when social media was in its infancy and the only users were tech-savvy twenty-somethings. However, in the current digital age, a company's audience is on social media —it just takes the right strategy to target them.
Although they have been slower to catch on, 83 percent of North American B2B marketers now use social media, making it the most commonly used B2B marketing tactic in 2017.1 Despite a growing number of B2Bs embracing social media, common mistakes and missed opportunities prevent their campaigns from reaching the full potential that digital platforms offer.
More articles are available on our ePapers page.
Contact us for more information on how your organization can benefit from high-impact public relations and social media.
515 S Capital of Texas Hwy, Suite 240, Austin, Texas 78746 — 1-512-329-5670 – info@anthonybarnum.com