Defining a target audience is key to unlocking a successful social media presence. The number of social media users worldwide in 2018 has risen to 3.196 billion, up 13 percent year-on-year. In the digital age, companies have innumerable opportunities to communicate their message to their audience on social media. However, many B2B companies fail to accurately identify their target audience and where to spend their time online, rendering their social media presence ineffective.
Before producing content, it is essential to recognize how, when and why a company's target audience is using social media so that its approach is focused and directed. Failing to understand an audience's needs can doom a social media strategy from the start.
To achieve long-term social media success, companies must go beyond basic, self-promotional posts. Here are four fundamental concepts to embrace a deeper level of audience engagement and garner exponential results:
Identify the target audience 
Many B2B companies assume that posting a few business updates and the occasional news article on LinkedIn will engage their audience and generate leads. In reality, the B2B companies leading effective social media campaigns today have done their homework and understand the expert-driven method necessary for success.
A business may have a comprehensive social media content strategy in place, but it will have no impact if its content isn't read by an audience that sees the value in updates associated with its industry. Finding this audience requires a firm comprehension of the company's core offering, and whom it believes will see the most value in it. Once the unique value proposition that sets the brand apart has been identified, a social media program can be developed to align with the specific needs of key industry decision makers that make up the target audience.
Learn where the audience lives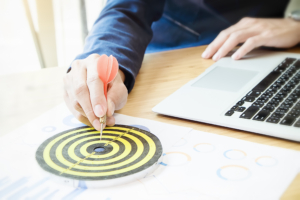 A company must determine which platforms their audience frequents. These are the channels to devote time and resources toward managing. Searching for current and potential clients on various platforms is an excellent way to begin this research. Once the users have been indentified, it's essential to evaluate their activity to confirm that the individual or business being targeted utilizes each channel consistently.
Develop content that resonates
After identifying the target audience and researching their social media presence, it's time to ensure the company's content fully aligns with its audience's interests. If social media posts fail to address topics the intended audience finds worthy of engagement, they will not take the time to read it or visit the account in the future. To avoid this, companies must center social content around their audience, not just their own offerings. That way, even if the company is in a complicated industry, it can still distribute content worth sharing, thus continuing to grow its audience.
Know the end-goal
When a business evaluates any aspect of its social media strategy, the most crucial component to consider is its end-goal. For B2B companies, this component is most likely to generate new leads and sales. While the kick-off phase of social media communications should emphasize building followers and getting to know the target audience, a company should also have a plan to turn these engagements into solid leads that propagate sales.
Creating a suite of social media accounts and calling it done is not enough. Strategically crafting a connection with an audience is paramount to enjoying revenue growth and successful sales initiatives from the effort. Companies must take the time to establish and understand their target audience, then produce content they will deem valuable and share across platforms. This strategy delivers strong ROI and positions a company as a thought leader in the social media landscape.