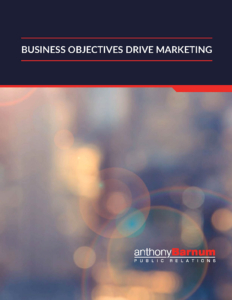 A characteristic that defines most anthonyBarnum engagements is that they tend to be closely aligned with senior management vision, constructed with a 'big picture' view in mind of the client's overall strategy and assessed by metrics that flow directly from core business objectives.
Some mid-market companies first ready a new product, and as launch date nears, call an agency for promotional help, devise last-minute tactics on the fly and hope for the best. anthonyBarnum strongly advises against this approach and operates from a paradigm that constructs public relations initiatives as essential components of a business process built to align with senior management vision.
This ePaper walks through a typical anthonyBarnum engagement, explaining how the agency fully immerses itself in core business objectives, interviewing top company executives and studying founding documents, sometimes including the initial business plan. Understanding a business' fundamental market advantages and competitive position often drives marketing objectives. The identity of the target audience, the content of most value to that audience and the greater trend context helps anthonyBarnum determine the correct mix of public relations, social media and owned content that most efficaciously serves a client's needs.
More articles are available on our ePapers page.
Contact us for more information on how your organization can benefit from high-impact public relations and social media.
515 S Capital of Texas Hwy, Suite 240, Austin, Texas 78746 — 1-512-329-5670 – info@anthonybarnum.com