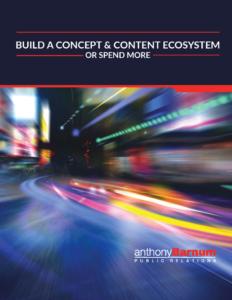 Disruptive and leading-edge companies require deeper, more nuanced marketing. Their target audiences are sophisticated and advanced. Their strategies for establishing meaningful, forecastable revenue are increasingly dependent on newer forms of marketing. The ideas, insights and content distilling who and what makes a company different have got to be meaningful or they will not produce results.Whether it's earned, social or owned, disruptors and innovators have many elements to intertwine. To maximize return, what is created to position the company's leadership must not only reflect a consistent vision and narrative, it also needs to be put together with maximum efficiency. To do so, old notions of public relations and social media must be retooled. Instead of marketing and PR teams operating in silos creating social media, news articles, demand gen, lead gen and owned content separately, the ecosystem of concepts and content need to radiate from the brand's center to create cohesion and efficiency.
This is not conceptual; it's practical. What it means is that the strategy and all the tactical components of the marketing plan need to work hand-in-glove to deliver results. Each critical target area for marketing with anticipated metrics needs an interrelated, integrated plan to maximize the use of assets.
More articles are available on our ePapers page.
Contact us for more information on how your organization can benefit from high-impact public relations and social media.
515 S Capital of Texas Hwy, Suite 240, Austin, Texas 78746 — 1-512-329-5670 – info@anthonybarnum.com