Summer is fading into fall and the final quarter of the year is just around the corner. Innovation companies are ramping up on all marketing cylinders to close out the year. As they do so, they also have an eye toward how to lay the strongest possible position for the first quarter of 2022.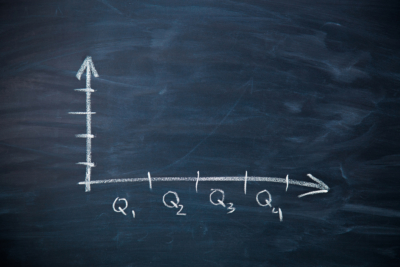 For anthonyBarnum, after a quieter August, we began a series of conversations with the fastest-growing and most-funded software companies across the country – speaking with dozens of CMOs and VPs of marketing about their PR objectives. It's interesting to hear everyone's priorities – 2021 was not really post-pandemic and not as fun as everyone had hoped, but technology and new advancements have been racing forward.  
There are several recommendations we have for Q4 from a PR perspective, as well as patterns of note. 
Q4 vs. Q1: Pros and Cons
From September-December half of the companies that bring anthonyBarnum on are going to do so prior to the close of the year. The other half will wait until the first two months of the following year. 
Why? One factor is, of course, budget cycles. About half of these companies have already planned PR for Q4 or could assign PR budget for the remaining months of the year. For those that start in Q4, they are seeking to generate visibility intra-quarter, and get the jump on Q1 of the following year. This can be driven strategically or by news they are anticipating announcing within the quarter, including acquisitions, funding events, or major product advancements. 
The companies that start in Q1 of the following year tend to be looking at PR as an initiative they roll-out as part of a total next-level marketing strategy.
Bottomline is that from an ROI perspective in PR, a steady PR campaign in B2B software has higher ROI over time than condensing activities with larger budget and less time. If the goal is to feel the full impact of a PR campaign in early Q1, start in Q4, if feasible.
EOY News Cycle and Trends
The holiday fits and starts can be an advantage in PR, not a disadvantage. The media become very receptive to understanding the future of a specific industry or technology segment as we move into Q4. It is a time when they are ready to roll up their sleeves and take on some of their most complex stories. As we get deeper into the quarter, journalists begin to fully pivot to takeaways from the current year and ask what's next in the following year. It's a great time for visionary thought leadership and deep analysis.
2021 will be an interesting year to reflect on— markets and industries have transformed, but dust has not yet settled. New norms and expectations in many cases are yet to be completely formulated as we contemplate what exactly transpired and is likely the new go forward.
Inquisitive Media Environment
Big trend-related news comes out in the fourth quarter across many sectors—some are triggered by the holidays, others via yearly comparisons. Just about every segment has a story – software platforms in logistics, retail, and e-commerce, as do the trends and technologies shaping workforce and customer experience. Healthcare technologies and new business models through advanced platforms are now of interest across the media. Because 2021 was so unpredictable and less satisfying than we had hoped, it may portend to a more inquisitive media environment.
What does the data and the surveys say? How did organizations continue to adapt successfully? What new technologies are gaining ground in adoption? There are so many questions, and with those questions comes an opportunity for tech leaders to provide insights.
The Most Wonderful Time of the Year
The fourth quarter is anthonyBarnum's most exciting time of year. Not only are the news and trends ultra-interesting, but we also get to learn about marketing executives' priorities for the year. It's a unique time of year when innovation companies are both creating more news and when reporters are seeking to develop analytic pieces about the past year and what's to come. This year – with all its unpredictability and ongoing requirements for adaptation – is an even more amplified opportunity for thought leaders in their segments to bring forward compelling insights.
Check out our resources page for more helpful info on B2B PR, and request a briefing to get in touch with us about jump-starting your category ownership.