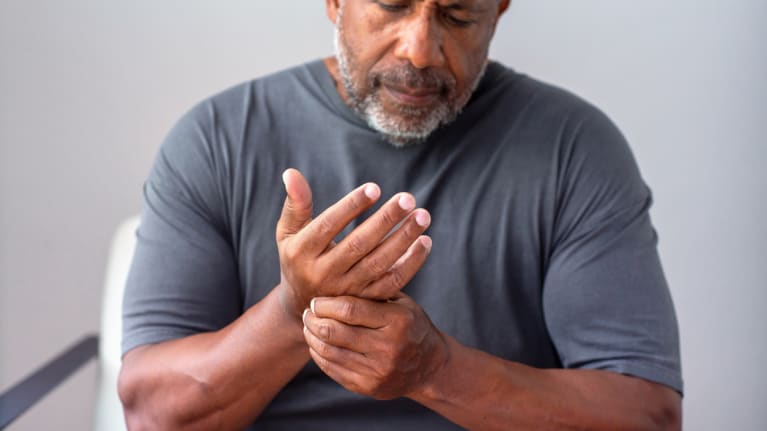 Arthritis is a leading cause of disability in the United States.
Almost 59 million U.S. adults have arthritis, and almost 26 million are unable to perform everyday activities because of arthritis, according to the U.S. Centers for Disease Control and Prevention (CDC).
Arthritis is the second-largest driver of employee health care costs. It is responsible for 172 million lost workdays and $304 billion in medical costs and lost earnings each year, according to the Arthritis Foundation.
For example, for employees with rheumatoid arthritis, medical and pharmaceutical costs averaged about $7,500 more per year than for those without rheumatoid arthritis, according to a 2018 report from the Integrated Benefits Institute. Additionally, employees with rheumatoid arthritis used an average of two more sick days per year than those without rheumatoid arthritis.
"The impact of arthritis on productivity in the workplace cannot be overstated," said Clarice Holmes, senior director of clinical knowledge management at NantHealth, a Morrisville, N.C.-based company focused on health care technology and data. "Arthritis can lead to inconsistent efficiency for the worker due to pain."
Effective Strategies
Because employees spend so much time working, employers' policies can have a big impact on their arthritis symptoms.
Benefits geared toward helping employees with arthritis include:
Insurance coverage for prescribed arthritis medications.
Paid sick days and time off for medical appointments.
Short-term and long-term disability insurance.
Wellness programs with an exercise component.
Possible accommodations for workers with arthritis include:
Conducting an ergonomic assessment of the workstation.
Moving the workstation closer to bathrooms.
Allowing more frequent breaks.
Eliminating repetitive movements.
Providing assistive technology like a standing desk, ergonomic chair, keyboard rest and foot rests.
Offering flextime, a compressed workweek or an alternate work location.
When determining whether a requested accommodation is reasonable and appropriate, "HR must conduct an individualized assessment and remember the interactive process is ongoing. It's not a one-and-done," said Amy Epstein Gluck, an attorney with FisherBroyles in Washington, D.C. "HR needs to understand how the arthritis impacts and limits the employee's ability to do the employee's job. HR should document its conversations with the employee and/or the employee's health care provider."
Remember that a formal diagnosis from a doctor is not required for an accommodation to be implemented. The Americans with Disabilities Act "does not require an employer to request any medical information from an employee after the employee requests a reasonable accommodation related to arthritis or for any disability," Epstein Gluck said.
It's common for people with arthritis to have other chronic conditions, such as obesity, diabetes or heart disease, the CDC reported.
Aging World Population
"The world population is aging, and rheumatologists must be prepared to care for older adults with rheumatic diseases while addressing additional diseases and medications they may have," said Dr. Jiha Lee, a rheumatologist at University of Michigan Health in Ann Arbor, Mich. "We can work more closely with primary care providers and learn from our colleagues in geriatrics and adopt age-friendly approaches to improve prescribing practices for older adults with rheumatoid arthritis."
Getting more physical exercise is one of the best ways to relieve arthritis symptoms, including joint stiffness, pain and swelling, according to the CDC. Particularly recommended are low-impact aerobic activities that don't stress the joints, like yoga, tai chi, brisk walking, cycling, swimming and water aerobics.
To prevent or relieve arthritis, the Osteoarthritis Action Alliance recommends that workers with physically demanding jobs practice safe lifting techniques, stretch frequently and keep their feet flat on the floor when seated at a desk. The alliance offers a set of tools for employers.
Leah Shepherd is senior legal editor for SHRM.
See more at: https://www.shrm.org/resourcesandtools/legal-and-compliance/employment-law/pages/arthritis-awareness-accommodations.aspx