It appears as a given when innovative and successful companies generate buzz around their products or services touting their vision in the context of their market. Often the explanation in the piece is so gripping and clear, it's hard to imagine it was not the work of a single genius. The reality is that achieving this "buzz factor" involves a vast pyramid of expertise—from the exemplary vision of the CEO to the technical experts building the solution to advanced marketers. Multiple pieces must come together to change a category. Not only must marketing interpret the solution within the context of its industry, but further layers must also be unpacked to communicate its value to the media.
Companies cannot solidify their position as a thought leader in their field on their own. They must earn the moniker of thought leader by offering insightful value to the media who are ultimately serving their readership – and therein lies the craft of marketing and PR. What's more, there must be mastery of how to craft an effective pitch and break through with thought leadership so compelling it necessitates coverage. In the age of the 24-hour news cycle, it is essential not to waste the media's time by distributing irrelevant messages, obtuse press releases and oversimplified media pitches.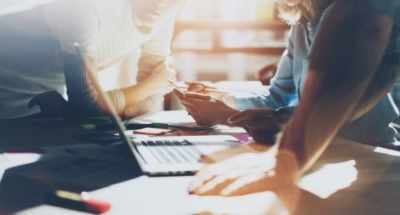 Want to break through? Here is anthonyBarnum's list of five ways to go from unknown to thought leader through effective media pitching.
Do the homework
Reporters can receive hundreds of pitches a day. So, how can marketers ensure their story stands out? Know targeted outlets' interests inside and out. Watch for stories that relate to the industry and add those reporters to a media list, waiting to pitch them until there is a story idea that closely matches their coverage focus. Fifty-six percent of editors report receiving content that is not a fit for their audience. Make an effort to tailor the pitch to the outlet and reporter. Above all else, a media outlet serves their audience and readership.
Get Personal
Creating a one-size fits-all pitch and distributing it to various media outlets will generate very little response. Instead, identify the different needs and audiences and tweak the body and subject line of the pitch accordingly. It can be helpful to reference other articles the reporter has written and explain how the subject of the pitch will benefit their specific audience.
Get to the point of the pitch
If a pitch to the media is written the same way a sales pitch would be constructed, it's going to be disregarded. Instead, focus on keeping the message interesting and helpful. Pitches that assert a solid position on an industry topic of importance with a clear call to action are more likely to resonate.
Be mindful of deadlines
In today's news cycle, opportunities can come and go within a span of hours. When reaching out concerning breaking news, have relevant messaging ready. Respecting a reporter's deadline is essential to building a positive relationship that can even lead to additional coverage.
Craft a newsworthy narrative
Before pressing send, make sure the pitch is newsworthy. Failure to spot this could result in the reporter blacklisting the company, permanently halting any further communication. Journalists feel pressure to identify trends and "get the scoop," and if the story being pitched is old news or lacks a unique angle, journalists won't see the point in moving forward.
Editors and reporters need companies and advanced marketers to help them understand business and technology ecosystems to translate the impacts to their audiences. They are eager to engage in meaningful dialogue and bring complex advancements to the forefront of media through their analysis. That's why it is imperative to a successful earned media campaign to be a truly meaningful resource and take the time to thoroughly analyze every pitch.