Every effective PR program involves an important initial planning phase to define objectives, strategies and tactics. In an ultra-competitive market, it's also important to understand how competitors are positioning to win the mindshare and category game through their public relations and other external communications activities.
A PR competitive analysis is an excellent tool for identifying and evaluating specific strengths, weaknesses and strategies being leveraged by key industry players within the media and other external channels. The process can uncover insights that present an opportunity to create greater contrast. It also provides a benchmark for what it's going to take to outpace a competitor as a thought leader. The competitive analysis may also reveal unexpected plans from other businesses or deeper insight into how they approach the market.
To conduct an external communications and PR competitive analysis, it is best to go with a third-party who doesn't have set expectations about the specific market landscape to get more of an objective view. Here's a glimpse into anthonyBarnum's top five practices: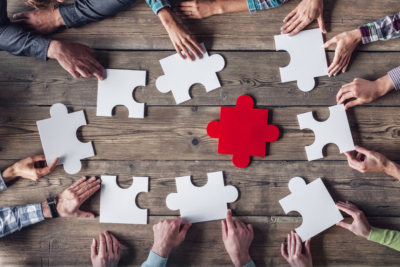 Recognize Key Players
When the topic of competitors is discussed, marketers tend to rattle off dozens of competitors and the corresponding market differentiators. But to really analyze the landscape, the list needs to be narrowed down to the top 5-10 companies from a revenue or market perspective. The selection needs to be highly relevant to not just the current state of the company, but also where it's pivoting.
Assess Competitor Websites
Competitor websites are a portal. Marketers know this, but sometimes they bring with them assumptions. By leveraging an outsourced team, marketers can eliminate the bias to harvest key concepts of value. Let an outsider decipher what the messages are seeking to convey to get a more accurate comparison of differentiation and major value propositions.
Blog and Demand Content Captures Priorities
Thought leadership and demand content is especially enlightening as it captures where the competitor sees its most significant opportunities. The content can be deconstructed to provide insights into the nuances of their target personas' pain-points. Then, the key themes and messages can be classified. While it's not an exact science, by classifying and prioritizing the frequency of themes within owned content, the team can then evaluate the overall quality of the earned media outcomes in context of their alignment to marketing's top conversion objectives.
Identify Media Coverage
Don't let media coverage fool you. A headline and Fast Company logo may seem like a great placement, but the real value of that placement is in context of the competitor's key directives. Use the priorities deciphered from competitor owned content to set a benchmark for the earned. Opportunistic inclusions in roundups that may be off-center with priorities need to be discerned from intentional, quality earned media coverage. The best way to evaluate the results of media coverage on a competitor's site is to break each piece down by a) message relevance, b) depth of message, c) circulation, d) relevance of audience. If there is a lot of coverage, map each piece out against a scoring system. This is very helpful when there appears to be a lot of coverage.  
Don't Forget Social
Examining a competitor's website and media coverage is essential, but to get the full picture companies must also understand how their competition interacts with users on social media. Social media platforms allow companies to communicate directly to their target audience with curated thought leadership content that seamlessly embodies the brand's voice. It is essential for companies to have a clear idea of which accounts competitors have, how often they are updated and the type of content they share. Pay special attention to which content receives the highest level of engagement, as it can reveal a lot about how to effectively communicate with the target audience.
Preparing a written assessment of key competitors gives companies the opportunity to shape their external communications and PR strategy with meaningful data. The result? A competitive analysis that actually demonstrates strengths and weaknesses – which can be leveraged to up your game.